Location: Fountain Valley, California
Schedule: Full-time
Shift: Full-time
Job Listing: MEM004968
Purpose Statement / Position Summary
MemorialCare System Services team members work with end users, other Implementation Service (IS) teams, vendors, and management to help assess, select, configure, test, install and provide on-going support for software and hardware solutions for the end user community in administrative, financial, ancillary, clinical as well as additional areas.  This includes helping to understand, change, and improve business workflows based on software solution modifications, to achieve process improvements and to ensure optimal use of applications.  They maintain the role of IS liaison to assigned departments, helping to facilitate resolution of requests and problems, as well as to ensure end user/management customer satisfaction.
The Application Specialist role places a strong emphasis on project leadership as it pertains to upgrades and net-new implementations. They participate in all types of projects, providing oversight and guidance needed for IS Projects.
The Application Specialist applies a broad knowledge level of healthcare Information Technology (IT) principles, best practices, and an in-depth understanding of workflows to complete moderate to highly complex and multi-faceted assignments. They address escalated requests, and projects requiring critical thinking skills and ingenuity.  The Application Specialist helps implement and administer highly visible ancillary applications and core systems that are both multi-faceted and robust, to meet the needs of MemorialCare end-users while seeking opportunities to optimize internal processes and standards. This position works to complete mission critical tasks, solve enterprise issues, and has oversight of highly complex systems within MemorialCare's critical service lines.  They must demonstrate strong interpersonal skills in working regularly with co-workers, other IS teams, end users, department managers, vendors, and senior and executive IT leadership. The primary team this Application Specialist will reside in with the Epic Site Team.
Experience
Minimum 5 years' experience as a clinical or applications analyst, computer technician in a healthcare setting required.

Proven ability to lead all types and phases of highly complex projects. Proven history of managing oversight of team-based project management operations and methodologies. Experienced in leading projects, providing expert consultative guidance and direction on change initiatives, effectively dedicating time across more than one project, and meeting established deadlines.

Proven familiarity of regression testing as it pertains to ancillary applications and core systems interfaced with an EMR. Proven proficiency developing test scenarios and scripts for integrated ancillary applications and core systems.

Held previously successful role for an ancillary application or system initiative, which required the use of project management tools and methodologies and experience with all project phases. Solid understanding of enterprise architecture related to ancillary applications and core systems including business continuity.

Experienced establishing designing and implementing ancillary application and system support models with a core understanding of IT operations. Demonstrated ability to upgrade ancillary applications and core systems, optimize them for improved performance and streamline functionality based on operational workflows.

Proven progressive project management experience working independently as well as in a team situation meeting aggressive deadlines.

Experienced troubleshooting and remediating routine problems associated with ancillary applications and core systems to ensure high levels of user satisfaction. Proven ability to apply an extensive amount of hands-on experience and expert level knowledge of ancillary applications and core systems while leading highly complex projects at the enterprise level.

Demonstrated comprehensive understanding of all areas of application support including integration using HL7 messaging and administration of system and service life cycles.

Demonstrated high energy levels and tolerance of tight deadlines, time pressures, and ambiguity.

Proven ability to prepare and interpret flowcharts, schedules, and step-by-step action plans.

Proven experience managing personal issue queue as well as that of junior resources, assigning work orders, and providing advice on issues. Experienced at managing calls from customers for assistance and skillful at closing the loop with creating and updating pertinent documentation.

Demonstrated ability to mentor junior team members on operational and system workflows, as well as usage of systems and internal process. Experienced at training team members on troubleshooting and remediating issues associated with ancillary applications.

Demonstrated ability to manage professional relationships with executive leadership and regularly host meetings.

Demonstrated ability to work independently with minimal direction.

Proven experience involved in team initiatives including translating end-user needs, meeting deliverables, providing status reports, and managing customer expectations.

Demonstrated effective communicator for purposes of interpersonal relations to understand and identify project needs and overall objectives.

Demonstrated understanding of Epic inpatient clinical applications and workflows.
Education
Bachelor's degree or an equivalent combination of education and relevant experience required; Advanced degree preferred.

Project Management Professional (PMP) or equivalent PMI recognized certification preferred.
Jobs For You
You have not recently viewed any jobs.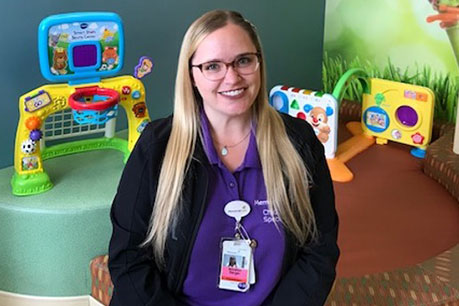 "I love working at Miller Children's & Women's Hospital Long Beach because I value working for a company that invests in its employees and the community we serve. From the support and guidance I receive from managers who value my professional and personal growth; to being able to work alongside colleagues who are dedicated to help their patients and families. I feel inspired every day to do the work that I love alongside people who share a similar vision."