Call Center Representative/Call Agent I (Remote, Per Diem)
Location: Fountain Valley, California
Schedule: Per Diem
Shift: Per Diem
Job Listing: MEM006183
***WORK FROM HOME AFTER TRAINING***
Requirements:
1st part of training: 40 hours the first week of employment: Tuesday thru Monday 8a.m.-4:30p.m.
2nd part of training: Mon-Fri between the hours of 8a.m.-4:30p.m., this can take 4-8 weeks if not longer
Purpose Statement / Position Summary
To be the first reliable point of contact for Patients, Families and Providers. Providing the Simply Better MemorialCare Experience in every interaction with guests and colleagues.
Essential Functions and Responsibilities of the Job
Deliver the Simply Better MemorialCare Experience in every interaction with Patients, Families, Providers and Colleagues. 

Prioritize service and customer experience within each interaction.

Ensure unforgettable guest experiences through unmatched service.

Demonstrates strong guest-focused engagement over the phone, email, and chat.

Demonstrates effective communication, interpersonal, written and verbal skills.

Strong organizational skills.

Must be able to multi-task and maintain calm demeanor.

Must possess problem resolution and follow through skills.

Knowledge of managed care and the business segments.

Knowledge and ability to schedule reservations for patients/family.

Be at work and be on time.

Follow company policies, procedures and directives.

Interact in a positive and constructive manner.

Prioritize and multitask.
Minimum Requirements:
1-2 years customer service experience or other related guest-focused engagement preferred.

Call center experience necessary in a fast-paced setting.

Excellent computer and typing skills are necessary. Use and knowledge of Windows, Microsoft Office, and Outlook (operates PC with speed and accuracy)

Some medical terminology preferred.

Spanish speaking a plus.
Education
High School diploma, GED required
Jobs For You
You have not recently viewed any jobs.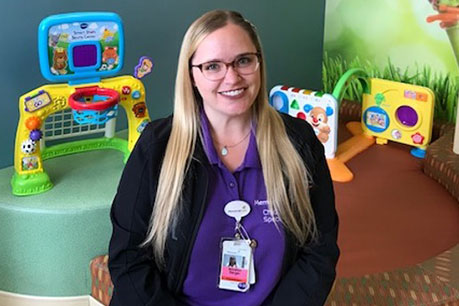 "I love working at Miller Children's & Women's Hospital Long Beach because I value working for a company that invests in its employees and the community we serve. From the support and guidance I receive from managers who value my professional and personal growth; to being able to work alongside colleagues who are dedicated to help their patients and families. I feel inspired every day to do the work that I love alongside people who share a similar vision."