Location: Fountain Valley, California
Schedule: Full-time
Shift: Full-time
Job Listing: ORA003677
Position Description:
This position requires the full understanding and active participation in fulfilling the mission of Orange Coast Medical Center. It is expected that the employee demonstrate behavior consistent with our core values: Integrity, Accountability, Best Practices, Compassion and Synergy. The employee shall support Orange Coast Medical Center's strategic plan and participate in and advocate performance improvement/patient safety activities.
The Licensed Clinical Social Worker provides social work services to patients and families in all hospital areas specific to assignment. The Licensed Clinical Social Worker assists patients in addressing psycho-social issues they face as it relates to their acute or chronic illness and/or disability. The Licensed Clinical Social Worker is responsible for providing interventions to remove psycho-social barriers preventing safe and timely transition through the continuum of care. They skillfully advocate in empowering patients to maintain a level of control over their treatment and ensure self-determination. The professional licensure allows this individual to provide clinical and casework supervision (under the Board of Behavioral Sciences) to staff in accordance with the needs of the department.  In addition, the Licensed Clinical Social Worker focuses on ensuring quality care while actively engaging in cost effective measures such as Performance Improvement Projects, LEAN activities and other hospital wide initiatives.
Professional services include, but are not limited to biopsychosocial assessment, brief treatment, crisis intervention, case consultation, patient education, discharge planning, custodial placements, resource management and clinical supervision of Associate Social Workers.
Essential Job Outcomes
Performs medical social work responsibilities.

Ensures continuity of psycho-social care through the continuum.

Collaborates, communicates and partners with the interdisciplinary team.

Employs appropriate utilization management skills and techniques.

Participates in quality management programs and projects specific to the Social Work Services Department and other units/departments (as indicated)

Provides supervision to assigned staff.

Supervises and/or precepts MSW students.

Provides education and presentations on the role of Social Work Services to the interdisciplinary team.

Other duties as assigned.
Minimum Requirements:
Experience
List the minimum experience, skills, knowledge and abilities required to do the job.
Two to four years healthcare experience preferred.
Ability to provide clinical and casework supervision to MSW colleagues preferred.
Ability to act as a Field Supervisor and/or Preceptor to MSW Student Interns preferred.
Minimum Requirements:
Education
List the education licensures or certifications preferred or required to do the job.
Master of Social Work (MSW) Degree from an accredited School of Social Work required. Licensed Clinical Social Worker (LCSW) required.
Current American Heart Associate Basic Life Support Card required.
Jobs For You
You have not recently viewed any jobs.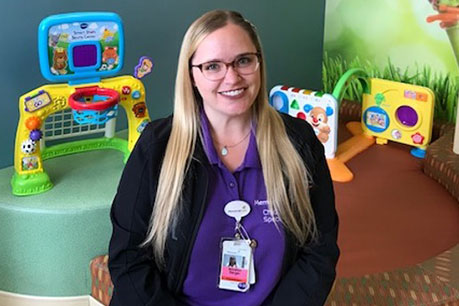 "I love working at Miller Children's & Women's Hospital Long Beach because I value working for a company that invests in its employees and the community we serve. From the support and guidance I receive from managers who value my professional and personal growth; to being able to work alongside colleagues who are dedicated to help their patients and families. I feel inspired every day to do the work that I love alongside people who share a similar vision."