Lead, Admitting - Full Time
Location: Fountain Valley, California
Schedule: Full-time
Shift: Full-time
Job Listing: ORA002433
Position Details:
Working under the supervision of the Admitting Manager, the Emergency Room Registration Lead oversees the operations of his/her shift. The Lead will assist staff members when questions and issues arrive resolving them whenever possible and escalating them to the Admitting Manager as needed. The Lead will assist with staff coverage for call outs on their shift. The Lead may be asked to assist with the department schedule. The Lead will assist in the training of new hires/transfers to the department and with follow-up training needs as identified. The Lead will promote Teamwork by setting an example of efficiency and excellent customer service with patients, clinicians and co-workers.
Minimum requirements:
Familiar within all aspects of Admitting, multi-task oriented with ability to prioritize essential job functions.

Strong customer service skills.

Knowledge of insurance and ability to identify group on the insurance card

Minimum of 1 year experience in hospital setting.

Previous Lead experience preferred.

Computer skills required

Ability to communicate effectively both verbally and written

High school graduate preferred.

Knowledge of Medical terminology

Previous experience in identifying insurances preferred.
Jobs For You
You have not recently viewed any jobs.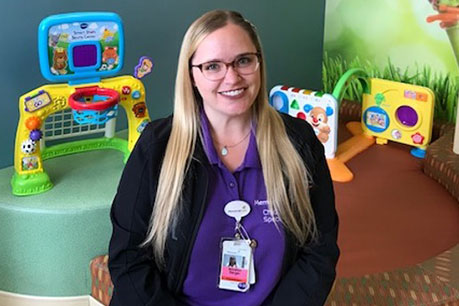 "I love working at Miller Children's & Women's Hospital Long Beach because I value working for a company that invests in its employees and the community we serve. From the support and guidance I receive from managers who value my professional and personal growth; to being able to work alongside colleagues who are dedicated to help their patients and families. I feel inspired every day to do the work that I love alongside people who share a similar vision."