Registered Dietetic Tech -PD/Days
Location: Fountain Valley, California
Schedule: Full-time
Shift: Full-time
Job Listing: ORA003527
Purpose Statement / Position Summary
This position requires the full understanding and active participation in fulfilling the mission of Orange Coast Memorial Medical Center. It is expected that the employee demonstrate behavior consistent with our core values: Accountability, Best Practices, Compassion and Synergy. The employee shall support Orange Coast Memorial Medical Center's strategic plan and participate in and advocate performance improvement/patient safety activities.
This position that reflects an advanced level of knowledge in nutrition based on guidelines from the Academy of Nutrition and Dietetics (AND) and the Commission for Dietetic Registration (CDR). This position is responsible for collaborating with members of the Food and Nutrition Services (FNS) department and nursing/ancillary staff to provide meal trays according to the physician's orders using current, scientific literature and best practices. The primary role of this position is to process (calculate/modify) patient's menus according to patients' preferences, allergies, and medications per physician's diet order. This position also enters nourishments, supplements, tube feeds, etc. into the electronic patient kardex (Computrition). In addition, this position assists with performance improvement, Computrition maintenance, Diet Office/Hostess staff education and other administrative and related duties as assigned. This position acts as a Computrition administrator and a mentor to the Diet Office/Hostess staff.
Essential Functions and Responsibilities of the Job
1. Ability to process the patient's menus according to diet order and patient preference/allergies, and any special instructions using Computrition.
2. Demonstrates the ability to apply infection control policies/procedures for safe food handling.
3. Ability to effectively communicate verbally and written in English
4. Provide excellent customer service to ensure patients' needs are met
5. Communicate effectively with the FNS, nursing and ancillary staff to implement nutrition orders and improve patient services
6. Apply expertise in normal and therapeutic nutrition when processing nutrition requests and collaborating with members of the FNS department and nursing/ancillary staff
7. Ability to assist with monthly PI projects by gathering data and generate reports
8. Ability to act as a mentor to the Diet Office/Hostess staff by assisting with in-services and guidance as needed
9. Ability to maintain skills as Computrition administrator
10. Demonstrate ability to contribute as a team member to complete tasks, resolve problems and achieve department goals.
11. Ability to maintain a clean working environment
12. Ability maintain criteria for this position.
13. Ability to be at work and be on time
14. Ability to follow company policies, procedures and directives
15. Ability to interact in a positive and constructive manner
16. Ability to prioritize and multitask
Essential Job Outcomes
1. Demonstrates the ability to correct meal selections to comply with physicians' diet order using Computrition Checks patient menus/tray line prior to each meal
2. Able to transcribe new orders in Computrition, print tallies and special report
3. Demonstrates the ability to work the am & pm clerk position as needed
4. Check food temperature before each meal and comply with food safety guidelines
5. Demonstrates the ability to perform other related duties
6. "Other duties as assigned"
Experience
Hospital experience preferred

Customer service experience preferred

Basic computer skills
Education
High School Diploma

Passing score on the DTR board exam by the CDR (Commission on Dietetic Registration), or AA or BA/BS degree in Nutrition or related field required

Registered Dietitian Eligible (RDE) required
Jobs For You
You have not recently viewed any jobs.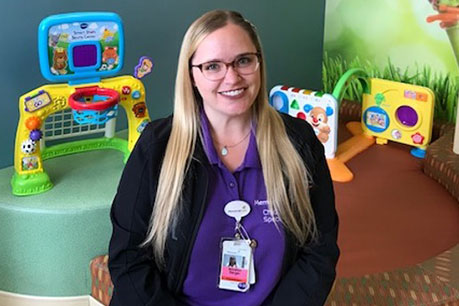 "I love working at Miller Children's & Women's Hospital Long Beach because I value working for a company that invests in its employees and the community we serve. From the support and guidance I receive from managers who value my professional and personal growth; to being able to work alongside colleagues who are dedicated to help their patients and families. I feel inspired every day to do the work that I love alongside people who share a similar vision."