Respiratory Therapist II (NICU), Respiratory Therapy - PT/Nights (12hr)
Location: Fountain Valley, California
Schedule: Part-time
Shift: Part-time
Job Listing: ORA003143
At MemorialCare Health System, we believe in providing extraordinary healthcare to our communities and an exceptional working environment for our employees.  Memorial Care stands for excellence in Healthcare.  Across our family of medical centers, we support each one of our bright, talented employees in reaching the highest levels of professional development, contribution, collaboration and accountability.  Whatever your role and whatever expertise you bring, we are dedicated to helping you achieve your full potential in an environment of respect, innovation and teamwork.
Position Summary
The Respiratory Care Practitioner is an allied health professional with demonstrated skills and competency in all required therapeutic and diagnostic cardiopulmonary modlities provided in all areas of the hospital on geriatric, adult, adolescent and pediatric patient populations where Respiratory Care services are provided.
Essential Job Outcomes & Functions
Ability to work as a dependable, informed and engaged member of the department team
Ability to consistently provide world-class customer service to patients, families, visitors and fellow healthcare providers
Ability to demonstrate the skill set necessary to accurately assess pulmonary status of patients served
Ability to collaborate with the patient care team to appropriately establish, evaluate and adjust the plan of care according to patient needs within the scope of practice of the RCP license and policies and procedures of the hospital
Ability to safely and effectively perform all therapeutic respiratory care modalities in the Respiratory Care scope of service
Ability to meaningfully participate and contribute to the success of QA and PI projects
Ability to precept and mentor students, new hires, new grads and other employees
Minimum Requirements
Qualifications/Work Experience:
One (1) year experience in all areas where Respiratory Care is provided to include pediatric, adolescent, adult and geriatric patients, required
Minimum One (1) year recent NICU experience
Education/Licensure/Certification:
Licensed by the Respiratory Care Board of California as a Respiratory Care Practitioner (RCP), required
American Heart Association BLS (CPR) Card, required
PALS Card, required
ACLS Card, required
NRP Card, required
Minimum AS Degree in Respiratory Care or equivalent, preferred
Credentialed as a Registered Respiratory Therapist by the National Board for Respiratory Care, preferred
Jobs For You
You have not recently viewed any jobs.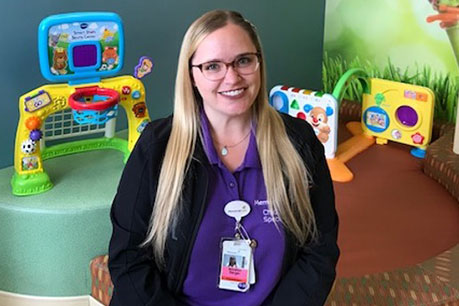 "I love working at Miller Children's & Women's Hospital Long Beach because I value working for a company that invests in its employees and the community we serve. From the support and guidance I receive from managers who value my professional and personal growth; to being able to work alongside colleagues who are dedicated to help their patients and families. I feel inspired every day to do the work that I love alongside people who share a similar vision."