RN, Clinical Nurse Educator - Med Surg/Telemetry
Location: Fountain Valley, California
Schedule: Part-time
Shift: Part-time
Job Listing: ORA004499
Title: RN, Clinical Nurse Educator
Location: Fountain Valley, CA
Department: Inservice Education
Status: Part time
Shift: Variable
Pay Range*: $49.51/hr - $77.73/hr
At MemorialCare Health System, we believe in providing extraordinary healthcare to our communities and an exceptional working environment for our employees. Memorial Care stands for excellence in Healthcare. Across our family of medical centers, we support each one of our bright, talented employees in reaching the highest levels of professional development, contribution, collaboration and accountability. Whatever your role and whatever expertise you bring, we are dedicated to helping you achieve your full potential in an environment of respect, innovation and teamwork.
Purpose Statement / Position Summary
This position requires the full understanding and active participation in fulfilling the mission of Orange Coast Memorial Medical Center. It is expected that the employee demonstrate behavior consistent with our core values: Accountability, Best Practices, Compassion and Synergy. The employee shall support Orange Coast Memorial Medical Center's strategic plan and participate in and advocate performance improvement/patient safety activities.
Through demonstrated advanced clinical knowledge, skills, and competence, the Clinical Nurse Educator facilitates learning experiences for interdisciplinary personnel through direct and indirect methods.The Clinical Nurse Educator coordinates, implements, and evaluates educational programs.Then Clinical Nurse Educator acts as an education advisor and consultant to the staff, mangers and other educators to identify gaps in practice and learning needs of staff.The Clinical Nurse Educator functions as a clinical and a professional role model for staff; demonstrating accountability, performance and responsibility in clinical practice.The Clinical Nurse Educator supports the integration and translation of research into practice as well as participates in performance improvement, evidence-based practice or research activities. The Clinical Nurse Educator provides clinical leadership and serves as a resource person to facilitate problem solving and decision-making skills of staff.The Clinical Nurse Educator serves as a consultant for various committees and projects as it relates to improved patient outcomes.The Clinical Nurse Educator functions as a change agent to improve patient care and supports interdisciplinary collaboration. The Clinical Nurse Educator integrates the Code of Ethics into all areas of practice and advocates for patients and staff at all levels
Essential Functions and Responsibilities of the Job
1.Demonstrates ability to apply expert knowledge to facilitate change as a result of variations in market or service line, research findings or regulatory modifications
2.Identifies, proposes and implements evidence-based practices and products/equipment to impact quality patient outcomes
3.Demonstrates the ability to utilize effective critical thinking skills when creating competency validations/curriculum
4.Ability to apply evidence-based practice to curriculum and translate evidence-based practice findings into nursing practice to enhance patient outcomes
5.Ability to coordinate and teach content in area of specialty as a means to advance nursing knowledge and increase community awareness as needed
6.Serves as an expert in clinical practice, demonstrating advanced clinical decision-making skills; and functions as a positive role model and consultant
7.Ability to coach and mentor staff and other members of the healthcare team
8.Supports Interprofessional collaboration when creating or educating staff
9.Demonstrates ability to inform and educate staff regarding performance improvement strategies and models to achieve quality patient outcomes
10.Participates in and assists the staff in developing relevant research or evidence-based projects
11.Participates in professional organizations and ensures national guidelines, standards, policy statements are incorporated into curricula, policies and unit/system workflows
12.Ability to be at work and be on time
13.Ability to follow company policies, procedures and directives
14.Ability to interact in a positive and constructive manner
15.Ability to prioritize and multitask
*Placement in the pay range is based on multiple factors including, but not limited to, relevant years of experience and qualifications. In addition to base pay, there may be additional compensation available for this role, including but not limited to, shift differentials, extra shift incentives, and bonus opportunities. Health and wellness is our passion at MemorialCare—that includes taking good care of employees and their dependents. We offer high quality health insurance plan options, so you can select the best choice for your family. And there's more...Check out our MemorialCare Benefits for more information about our Benefits and Rewards.
Experience
Minimum five (5) years recent direct clinical experience in area of specialization

Teaching experience preferred; including knowledge of adult education learning theories and curriculum design

Excellent interpersonal, written and verbal communication skills

Windows computer skills including proficient use of Microsoft Word
Education
Current California RN license

Bachelor's Degree in Nursing required;

Master's degree in Nursing preferred

Certification in Nursing Professional Development preferred

Certification in area of clinical specialty preferred (e.g. PCCN, CCRN)
Current AHA BLS for Healthcare Providers certification; AHA BLS Instructor certification preferred; may obtain instructor certification within six (6) months of hire

AHA ACLS/PALS or NRP provider or Instructor certification required based on clinical area or responsibility

California Teaching Credential preferred
Jobs For You
You have not recently viewed any jobs.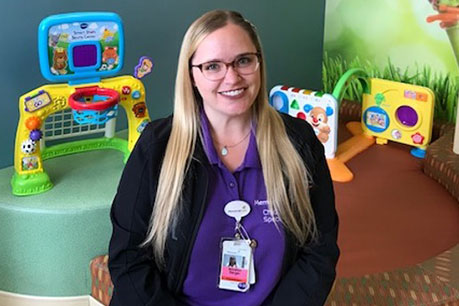 "I love working at Miller Children's & Women's Hospital Long Beach because I value working for a company that invests in its employees and the community we serve. From the support and guidance I receive from managers who value my professional and personal growth; to being able to work alongside colleagues who are dedicated to help their patients and families. I feel inspired every day to do the work that I love alongside people who share a similar vision."