Scheduler III, Surgery Services - Per-Diem/Variable
Location: Fountain Valley, California
Schedule: Per Diem
Shift: Per Diem
Job Listing: ORA003012
Position Summary
This position requires the full understanding and active participation in fulfilling the mission of Orange Coast Memorial Medical Center. It is expected that the employee demonstrate behavior consistent with our core values: Accountability, Best Practices, Compassion Synergy and Integrity. The employee shall support Orange Coast Memorial Medical Center's strategic plan and participate in and advocate performance improvement/patient safety activities.
The Scheduler/Secretary performs a broad range of secretarial and administrative functions. This position oversees the daily operations of the perioperative scheduling, including scheduling invasive and non-invasive procedures, GI procedures and surgery procedures. S/he complies and completes accurate and timely information for patient medical records and charges utilizing the hospital computer system. The Scheduler/Secretary performs effective scheduling for efficient patient flow and completion of required documentation. S/he maintain effective working relations with co-workers, nurses and physicians, outside services and other staff members in order to ensure workflow effectiveness. S/he creates an image of quality service and demonstrates critical thinking, problem solving, tact, diplomacy, discretion and judgment.
MInimum Requirements
One (1) year of acute care experience as unit secretary/nursing assistant or nursing student who has completed the first semester of nursing school preferred

Scheduling, data entry, and billing experience preferred

Computer, internet, order entry and word processing experience preferred

Proficient in medical terminology

High School Diploma or equivalency
Jobs For You
You have not recently viewed any jobs.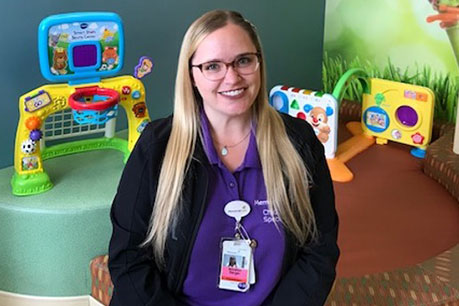 "I love working at Miller Children's & Women's Hospital Long Beach because I value working for a company that invests in its employees and the community we serve. From the support and guidance I receive from managers who value my professional and personal growth; to being able to work alongside colleagues who are dedicated to help their patients and families. I feel inspired every day to do the work that I love alongside people who share a similar vision."