Sr Epic Analyst - Tapestry - FT/Remote
Location: Fountain Valley, California
Schedule: Full-time
Shift: Full-time
Job Listing: MEM006524
Purpose Statement / Position Summary
Members of the MemorialCare Epic job family, work side by side with our end users to install the Epic software, help lead and manage workflow/software changes, and ultimately transform the way that MemorialCare provides healthcare. MemorialCare's Epic Team develops creative strategies to achieve common end goals while collaborating with our end users.
The Sr. Epic Analyst – Tapestry uses their advanced Epic knowledge in all phases of software deployment from design through implementation to post implementation problem solving. They independently provide an advanced level of operational and application build competence with their focus geared more towards complex and overall large projects. They mentor peers and provide educational/informational sessions to improve workflows, troubleshooting or system design pertaining to the overall team as well as internal implementation processes.
Essential Functions and Responsibilities of the Job
Apply high-level, specialized Epic Tapestry knowledge to improve processes through design, development and implementation of the Epic system, including development of end user materials

Initiate, participate, and lead project related efforts and process improvements, as well as provide internal guidance as appropriate

Demonstrate independent working nature, requiring minimal direction, while collaborating within and across applications

Work to establish and maintain Tapestry reporting needs as necessary

Demonstrate use of effective communication and interpersonal relations across staff from all departments, including senior leadership to achieve established goals

Automate health plan regulatory requirements using Tapestry
Essential Job Outcomes
Provides high-level customer service, troubleshooting, maintenance, and training materials for Epic Tapestry as necessary. Creates end user references expressing ideas clearly utilizing language and terminology that is understandable for the reader. Manages navigation of build migration paths, change control process/governance, and ticket management processes.

Participates and sometimes leads projects by translating customer needs, meeting deliverables, establishing status reporting, including to internal leadership when required, as well as managing customer relationships and expectations.

Initiates, facilitates, and leads meetings with end-user and internal staff members. Acts as user liaison between professional departments and Information Systems; leads others to adhere to established industry best practices, standards, and quality.

Manages and maintains accountability for end-user satisfaction and the success of assigned tasks, proactively communicating to mitigate risks including tracking issues and providing solution-oriented escalation. Performs in depth and precise investigation and documentation of future-state operational specifications and Epic Tapestry functionality.

Applies high-level, specialized Epic Tapestry capabilities to improve processes and support strategies as well as assist junior personnel. Responsible for the on-going assessment, design, validation, and development and implementation of the Epic system.

Collaborates with operations to identify and interoperate reporting needs by end-users, department leads and internal Information Systems staff.

Serves as a source of support and a positive role model through mentoring and training peers on build, workflow processes, testing, and implementation processes. Functions as a source of assistance and a positive role model by modeling desirable behaviors.

Initiates department process improvement; identifies, designs and implements process, including outline of maintenance plan.

Provides support to Health Plans, health plan delegated Medical Groups, and Independent Physician Associations, and MSO clients through Epic Tapestry build.

Automates health plan regulatory requirements for AP Claims, Authorizations, Capitation, Accounts Payable, and Enrollment using Tapestry modules.
Pay Range: $102,772.80 - $149,032
Placement in the pay range is based on multiple factors including, but not limited to, relevant years of experience and qualifications. In addition to base pay, there may be additional compensation available for this role, including but not limited to, shift differentials, extra shift incentives, and bonus opportunities. Health and wellness is our passion at MemorialCare—that includes taking good care of employees and their dependents. We offer high quality health insurance plan options, so you can select the best choice for your family. And there's more...Check out our MemorialCare Benefits for more information about our Benefits and Rewards.
Experience
Minimum 3 years' experience in Epic Tapestry

Demonstrated ability to effectively utilize system tools to meet functionality needs of users including proficiency with information systems technology such as Microsoft Office Products required

Experienced planning and organizing day-to-day activities, effectively managing more than one task, and meeting established deadlines

Demonstrated use of effective communication and interpersonal relations to achieve established goals

Experienced in leading projects, providing forward-thinking consultative guidance and direction on change initiatives, effectively dedicating time across more than one project, and meeting established deadlines

Proven ability in workflow and data analysis and design techniques, including needs assessment, specification development, quantitative methods, planning and gap analysis

Past success leading meetings between business stakeholders, technical resources, and third parties for business requirements and technical solutions

Experienced working with a diverse, multi-disciplinary team, and interacting with all levels of the organization
Education
Bachelor's degree preferred

Epic Certification in Tapestry application
Jobs For You
You have not recently viewed any jobs.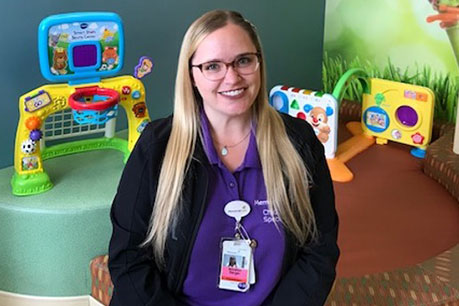 "I love working at Miller Children's & Women's Hospital Long Beach because I value working for a company that invests in its employees and the community we serve. From the support and guidance I receive from managers who value my professional and personal growth; to being able to work alongside colleagues who are dedicated to help their patients and families. I feel inspired every day to do the work that I love alongside people who share a similar vision."