Sr IS Trainer - Epic Inpatient
Location: Fountain Valley, California
Schedule: Full-time
Shift: Full-time
Job Listing: MEM004850
MemorialCare's Epic Principal Trainers  are responsible for developing the knowledge and skills of our workforce. They ensure that our workforce can meet its current and future business objectives and deliver quality services that meet our customers' needs. They develop and facilitate training strategies and plan initiatives working with clinical inpatient hospital users.
Sr. IS Trainers complete the analysis, design, development, implementation and evaluation of MemorialCare's complex software training. They help to increase end-user's efficient utilization of core systems such as the Epic electronic medical record or the analytics portfolio to enhance their workflows, documentation, and reporting outputs across the enterprise. As an intermediary between the IS Trainer and the Lead IS Trainer, the Sr. IS Trainer works to determine training objectives, assist new training team members as they join the team, and assist in curriculum development to achieve strategic goals and initiatives. They partner to design and deliver standardized system training programs aligned with operational workflows for a wide variety of audiences addressing team and individual accountabilities.
Essential Job Outcomes include:
• Develops and maintains content for use in instructor-led training (ILT) and web-based training (e-learning) curriculum.
• Enhances trainer skills, knowledge transfer and classroom facilitation skills. Mentors trainers to improve knowledge and skills and lead their work. Directs structured learning experiences for classroom or eLearning modules. Creates monitored simulations and problem-solving scenarios for effective learning.
• Develops and implements Train the Trainer programs for other Learning and Development roles, super users, preceptors and support services' caregivers. Serves as a mentor to others.
• Acts as a point of contact for department supervisors and end users as practices and workflow constraints are identified and related to system content and automation.
• Works closely with other developers and trainers in supporting the customer service development needs for all end user training.
• Initiates, facilitates, and leads meetings with end-user and internal staff members.
• Conducts training programs for end users and assists them in the personalization of systems through the development tools, templates, and settings.
• Maintains expertise and competence in the proper operation and optimal use of assigned software applications including potential Epic modules.
• Applies contemporary learning best practices to design, develop and maintain appropriate instructor manuals, training materials, job aids and documentation procedures using standardized tools and templates.
Qualifications
Minimum of 3 years' relevant Epic experience.

Minimum of 3 years successful project management experience preferred.

Minimum of 3 years' experience in instructional design and development of web-based and e-learning strongly preferred.

Experienced proficiency in Epic Master train environment (i.e. MST) build preferred.

Demonstrated proficiency in adult learning theory, motivation, and development. Experienced in instructional education, training, and/or customer service preferred.

Experienced with technical training development, eLearning development tools, and learning management systems preferred.

Proven competence in leading projects; evidence of progress in project management assignments.

Past success working independently as well as in a team situation while meeting aggressive deadlines.

Demonstrated proficiency in Microsoft Office Products required.

Bachelor's degree or an equivalent combination of education and relevant experience preferred.

Obtained clinical license/experience preferred.

Epic Certification in one or more modules required; experience with Epic Inpatient applications (i.e. Inpatient, ASAP, OpTime, Beacon, Willow, Stork) preferred.
Jobs For You
You have not recently viewed any jobs.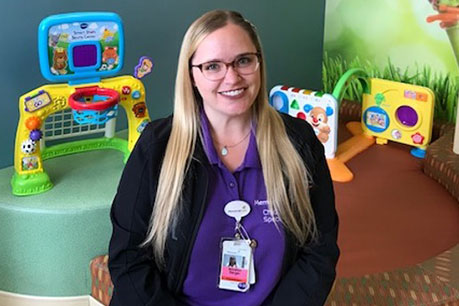 "I love working at Miller Children's & Women's Hospital Long Beach because I value working for a company that invests in its employees and the community we serve. From the support and guidance I receive from managers who value my professional and personal growth; to being able to work alongside colleagues who are dedicated to help their patients and families. I feel inspired every day to do the work that I love alongside people who share a similar vision."