Breast Care Navigator - FT/Days (8hr) - Laguna Hills
Location: Laguna Hills, California
Schedule: Full-time
Shift: Full-time
Job Listing: SAD004595
At MemorialCare Health System, we believe in providing extraordinary healthcare to our communities and an exceptional working environment for our employees. Memorial Care stands for excellence in Healthcare. Across our family of medical centers, we support each one of our bright, talented employees in reaching the highest levels of professional development, contribution, collaboration and accountability. Whatever your role and whatever expertise you bring, we are dedicated to helping you achieve your full potential in an environment of respect, innovation and teamwork.
Position Summary
The Breast Care Navigator works under the direction of the Director and supports associated medical, ancillary, and community navigation of breast care services. The position encompasses responsibility for provision of the diagnostic standards needed to navigate patients through multidisciplinary medical referral process, treatment planning (Tumor Board/Breast Care Treatment Planning Meetings) and demonstrates skills as a patient advocate.
The Breast Care Navigation responsibilities include understanding the principle of clinical, physical and psychosocial needs related to breast health and disease and is capable of communicating this information to the patient and family, as appropriate.  The Navigator works in partnership with patient's family, physicians and clinical team to ensure safety to meet the patient's health and treatment goals. The navigator serves as a patient advocate. The BCN offers decision making support, provides one on one counseling as needed, conducts education with patient and family. Provides guidance to patient identified in financial "hardship and/ or dispute of services rendered," through Patient Financial Services, social services, and community resources available. Coordinates treatment visit schedules as needed. As appropriate gives support at community health events, assist in investigational data review.
Other breast care navigation process includes support of high-risk analysis documentation with the Cancer Risk and Prevention Program (CRPP) and ancillary support team.
These responsibilities include provision of organization, communication and assertive skills necessary to navigate patient activities in coordination with ancillary departments. Identifies and resolves discrepancies related to process of patient care.
This position also supports the breast program manager in the implementation of service activities, in collaboration with the healthcare team towards achieving fiscal, quality care goals, and data outcomes for breast care program services.
Essential Functions and Responsibilities of the Job
Navigates clinical recommendation and/or referrals based on American College of Radiology (ACR) practice guidelines, National Comprehensive Cancer Network (NCCN) guidelines and other recognized approved practice guidelines to support program required achievements.

Navigates with Health Care Team the daily patient flow, including patient education of recall appointment, imaging findings, and pathology resulting. Ensure timely appointments turnaround time in support of navigating patient care through treatment planning conference process (tumor board).

Understands the principle of clinical, physical and psychosocial needs related to breast health and disease and is capable of communicating this information to the patient and family, as appropriate. 

Ensures that patients can be guided through the services required for their treatment within MemorialCare services as appropriate

Can assist the patient, if needed, with imaging, and access to available research protocols,

Collaborates with healthcare team to support achieving quality care goals, data outcomes for breast care program services and as appropriate, supports community health events and assist as needed in investigational data review of breast health care.

Reports and reviews agenda of approved meetings, committees, and community outreach involvement with Director

Prioritize and multitask
Pay Range: $97,000 - $139,000 annually
Placement in the pay range is based on multiple factors including, but not limited to, relevant years of experience and qualifications. In addition to base pay, there may be additional compensation available for this role, including but not limited to, shift differentials, extra shift incentives, and bonus opportunities. Health and wellness is our passion at MemorialCare—that includes taking good care of employees and their dependents. We offer high quality health insurance plan options, so you can select the best choice for your family. And there's more...Check out our MemorialCare Benefits for more information about our Benefits and Rewards.
Minimum Requirements
Qualifications/Work Experience:
Five years' experience in Breast Healthcare services

Proficient in computer systems, software applications, and data entry

Excellent oral and written communication skills

Ability to exercise critical independent follow through on projects

Possess excellent collaborative interpersonal skills
Education/Licensure/Certification:
Current Licensure in ARRT, CRT, (R, M) or RN

Bachelor's degree

American Heart Association BLS certified required

Breast Navigator Certification preferred
Jobs For You
You have not recently viewed any jobs.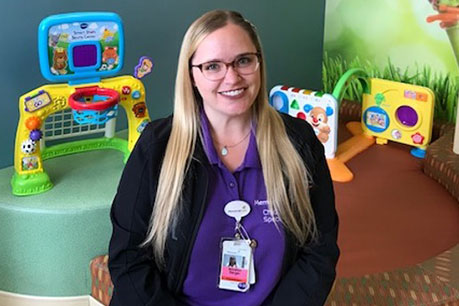 "I love working at Miller Children's & Women's Hospital Long Beach because I value working for a company that invests in its employees and the community we serve. From the support and guidance I receive from managers who value my professional and personal growth; to being able to work alongside colleagues who are dedicated to help their patients and families. I feel inspired every day to do the work that I love alongside people who share a similar vision."