Lead, Sterile Processing Technician ($1,500 SIGN-ON BONUS), Full-Time/Evenings
Location: Laguna Hills, California
Schedule: Full-time
Shift: Full-time
Job Listing: SAD003708
Purpose Statement / Position Summary
This position requires the full understanding and active participation in fulfilling the mission of Saddleback Medical Center. It is expected that the employee demonstrate behavior consistent with our core values: Integrity, Accountability, Best Practices, Compassion and Synergy. The employee shall support Saddleback Medical Center's strategic plan and participate in and advocate performance improvement/patient safety activities.
The Lead, Sterile Processing Technician cleans, packages, processes and stores clean and sterile supplies.  In addition, the Lead Sterile Processing Technician orders and stocks Sterile Processing Department supplies from the Materials Department.  Finally, this position will serve as a point person while on shift to address immediate concerns and troubleshoot problems. 
Essential Functions and Responsibilities of the Job
Responsible for manually cleaning and sterilizing the equipment and instruments to be utilized during surgery cases. 

Responsible for examining testing and monitoring certain supplies to ensure they're operating properly in accordance with standards and applicable regulations. 

Continuously demonstrates the ability to safely and competently perform assigned duties such as decontamination of equipment. 

Work to ensure the correct assembly of instrument trays and preform sterilization process. 

Serves as a subject matter expert and go-to person for emergent tasks also prioritizes workload for staff to ensure daily tasks are completed in accordance with standards and processes in place. 

Demonstrates ability to integrate knowledge of job responsibilities to complete tasks, resolve problems and achieve goals. 

Ability to be at work and on time

Ability to follow company policies, procedures and directives.

Ability to interact in a positive and constructive manner.

Ability to prioritize and multitask.
Essential Job Outcomes
Individual and unit preparation for magnet

Meets population specific competencies

Provides technical expertise to the SPD department: Safely and Competently cleans packages labels, and sterilizes instruments for cases

Maintains cost effective inventories and requests and stores supplies according to par level

Instructs staff to safely and competently use equipment in the performance of assignment

Compiles data and completes monthly and quarterly reports due to infection control

"Other duties as assigned"
Experience
Minimum of six (6) months Sterile Processing Training

Ability to fulfill the on-call requirement of the department
Education
High School Diploma or equivalency

Certified Registered Sterile Processing Technician required within the first 90days of employment
Jobs For You
You have not recently viewed any jobs.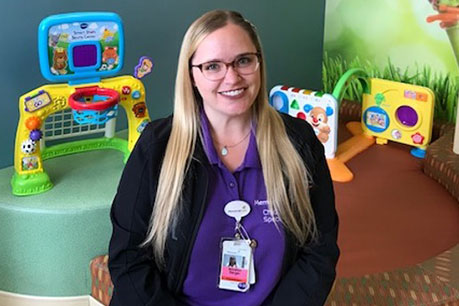 "I love working at Miller Children's & Women's Hospital Long Beach because I value working for a company that invests in its employees and the community we serve. From the support and guidance I receive from managers who value my professional and personal growth; to being able to work alongside colleagues who are dedicated to help their patients and families. I feel inspired every day to do the work that I love alongside people who share a similar vision."