Physical Therapist II, Inpatient Therapy - PT/Days
Location: Laguna Hills, California
Schedule: Part-time
Shift: Part-time
Job Listing: SAD004582
Purpose Statement / Position Summary
This position is responsible for providing all aspects of physical therapy services, including but not limited to screening examination, evaluation, care planning, treatment implementation, reassessment, discharge planning and education to pediatric through geriatric patients. Requested days to work are Sunday, Monday, Wednesday.
Essential Functions and Responsibilities of the Job
1.    Performs a physical therapy patient examination
2.    Evaluates clinical findings to determine physical therapy diagnosis/outcomes of care
3.    Designs a physical therapy plan of care
4.    Performs physical therapy interventions in a competent manner
6.    Educates others using relevant and effective teaching methods
7.    Produces documentation to support the delivery of physical therapy services
8.    Uses support personnel according to legal and ethical guidelines
9.    Be at work and be on time
10.  Addresses the age specific needs of all populations served
11.  Follow company policies, procedures and directives
12.  Interact in a positive and constructive manner
13.  Prioritize and multitask
Experience
One year clinical Hospital physical therapy experience required. In lieu of this experience, consideration will be made for staff with strong education and associated experiential background.
Education
Current California Physical Therapist Licensure
Current BCLS-C Certification
Jobs For You
You have not recently viewed any jobs.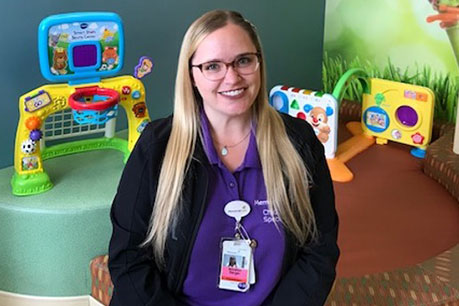 "I love working at Miller Children's & Women's Hospital Long Beach because I value working for a company that invests in its employees and the community we serve. From the support and guidance I receive from managers who value my professional and personal growth; to being able to work alongside colleagues who are dedicated to help their patients and families. I feel inspired every day to do the work that I love alongside people who share a similar vision."