Location: Laguna Hills, California
Schedule: Full-time
Shift: Full-time
Job Listing: SAD005057
Title: Radiation Therapist
Location: Laguna Hills, CA
Department: Radiology Therapeutic
Status: Full Time
Shift: Days/8hr
Pay Range*: $56.00/hr - $82.00/hr
Bonus: Sign-On - $10,000.00
At MemorialCare Health System, we believe in providing extraordinary healthcare to our communities and an exceptional working environment for our employees. Memorial Care stands for excellence in Healthcare. Across our family of medical centers, we support each one of our bright, talented employees in reaching the highest levels of professional development, contribution, collaboration and accountability. Whatever your role and whatever expertise you bring, we are dedicated to helping you achieve your full potential in an environment of respect, innovation and teamwork.
Position Summary
This position requires the full understanding and active participation in fulfilling the mission of Saddleback Memorial Medical Center. It is expected that the employee demonstrate behavior consistent with the core values. The employee shall support Saddleback Memorial Medical Center's strategic plan and the goals and direction of the performance improvement plan. The employee will also be expected to support all organizational expectations including, but not limited to: Customer Service, Patient's Rights, Confidentiality of Information, Environment of 
Care and MemorialCare initiatives.
Essential Functions and Responsibilities of the Job
Possesses required technical knowledge of department equipment. Possess functional knowledge of all ancillary equipment; the Varian TrueBeam and VitalBeam accelerator, Varisource/HDR, the CT Simulator, the Simulation workstation, Aria Treatment Planning System, Functional knowledge of block cutting,

Utilizes all electronic systems effectively and appropriately.

Assists with clerical duties.

Demonstrates the required technical knowledge to perform quality imaging for all 
diagnostic exams and procedures while providing quality patient care and safety. 

Performs quality imaging appropriate to patients of all ages and conditions.

Assures appropriate patient identification is performed and indication and history for 
exam is documented.

Ensures patient and family education is accomplished as appropriate and according to 

department policies. 
Placement in the pay range is based on multiple factors including, but not limited to, relevant years of experience and qualifications. In addition to base pay, there may be additional compensation available for this role, including but not limited to, shift differentials, extra shift incentives, and bonus opportunities. Health and wellness is our passion at MemorialCare—that includes taking good care of employees and their dependents. We offer high quality health insurance plan options, so you can select the best choice for your family. And there's more...Check out our MemorialCare Benefits for more information about our Benefits and Rewards.
Minimum Requirements
Qualifications/Work Experience:
1-year acute care experience or equivalent
Education/Licensure/Certification:
Current CRT license in the State of California
Current ARRT license, Radiation Therapy
Current fluoroscopy license in California (preferred)
Current BCLS certificate
Jobs For You
You have not recently viewed any jobs.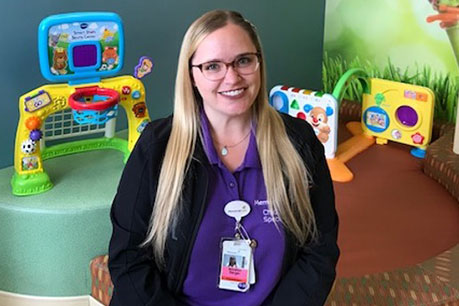 "I love working at Miller Children's & Women's Hospital Long Beach because I value working for a company that invests in its employees and the community we serve. From the support and guidance I receive from managers who value my professional and personal growth; to being able to work alongside colleagues who are dedicated to help their patients and families. I feel inspired every day to do the work that I love alongside people who share a similar vision."