RN, Quality Data Analyst, Neuroscience Administration, PT/Days
Location: Laguna Hills, California
Schedule: Part-time
Shift: Part-time
Job Listing: SAD003666
Position Summary
This position requires the full understanding and active participation in fulfilling the mission of Orange Coast Medical Center. It is expected that the employee demonstrate behavior consistent with our core values: Integrity, Accountability, Best Practices, Compassion and Synergy. The employee shall support MemorialCare Medical Centers' strategic plan and participate in and advocate performance improvement/patient safety activities.
The RN, Clin Quality Analyst II is primarily responsible for supporting quality and patient safety initiatives at the bedside to ensure positive patient outcomes and organizational performance. This is accomplished by developing, implementing, and monitoring sustainable processes for compliance utilizing data, positive communication, efficient organizational skills, and innovative collaboration patterns.  This position performs data collection/ entry and analysis within prescribed timelines for the Stroke Neurosciences Program including quality initiatives and projects. Implements and coordinates activities for regulatory requirements/accreditation standards, risk reduction, service enhancement, perfmance improvement initiatives, and best practices strategies. Acts as liaison between departments and physicians for performance improvement activities.
Essential Functions and Responsibilities of the Job
Actively participates and/or facilitates performance improvement and patient safety initiatives including but not limited to, department specific, hospital-wide, or system-wide to improve overall quality. Acts as a resource/liaison when needed.

Demonstrates competency in data collection, abstraction, aggregation, analysis, and transparent communication. Collaborates with various hospital departments and care lines, at both the campus and system level to enhance overall patient care.

Demonstrates knowledge in performance improvement methodologies to promote patient safety and regulatory compliance.

Demonstrates an understanding of quality, safety, service, and regulatory standards supported/required by external agencies including, but not limited to, The Joint Commission, Centers for Medicare and Medicaid Services (CMS), California Department of Public Health and the Orange County Emergency Medical Services .

Demonstrates proficient use of technology and is adaptive to new technology.

Utilizes performance improvement methodologies to analyze data for opportunities for improvement.

Submits data to appropriate entities in a timely manner and per specifications requirements.

Attends department or job-related meetings, presentations and educational events as needed.

Plays an active role in clinical evaluation of quality metrics, bold goals and patient outcomes. 

Ability to be at work and be on time.

Ability to follow company policies, procedures and directives.

Ability to interact in a positive and constructive manner.

Ability to prioritize and multitask.
Experience
3-5 years' experience in a quality/performance improvement acute care setting required.

Proficient in computer skills including Microsoft Office (Word, Excel, PowerPoint, Outlook etc.,) and Electronic Medical Record such as EPIC.

Six Sigma, Lean, or other improvement certification preferred.

Expertise in quality, safety, and regulatory standards supported/required by external agencies such as The Joint Commission, Centers for Medicare and Medicaid Services (CMS), California Department of Public Health and

Orange County Emergency Medical Services
Education
Current California RN Licensure and/or Certification in a Healthcare field required

Clinical Specialty experience preferred

Bachelor's Degree in Nursing or higher required
Current certification/licensure of advanced, specialized study (such as CPHQ, CIC, HACP, Lean Leader, Project Management, etc.) preferred
Jobs For You
You have not recently viewed any jobs.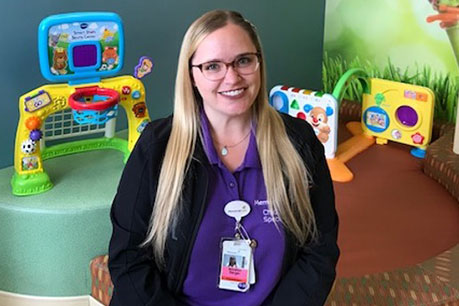 "I love working at Miller Children's & Women's Hospital Long Beach because I value working for a company that invests in its employees and the community we serve. From the support and guidance I receive from managers who value my professional and personal growth; to being able to work alongside colleagues who are dedicated to help their patients and families. I feel inspired every day to do the work that I love alongside people who share a similar vision."