Clinical Research Coordinator, I
Location: Long Beach, California
Schedule: Full-time
Shift: Full-time
Job Listing: MEM006904
Purpose Statement / Position Summary
Under the direction and supervision of the Director of Clinical Operations, Manager of Clinical Operations and Principal Investigator, the Clinical Research Coordinator I (CRC I) is responsible for providing support for clinical research protocols. The CRC I facilitates all implementation phases of new clinical research studies as well as the ongoing coordination and maintenance of open and closed studies. The position arranges and oversees all clinical trial activities and plays a key role in assisting the Principal Investigator (PI) in recruiting patients for clinical studies. The position works closely with the Principal Investigator, members of the department, study sponsors and monitors, and the institution, to support and provide guidance on the administration of the compliance, financial, personnel and other related aspects of all ongoing clinical studies. This individual will interact with subjects, clinic and research staff, laboratory staff, radiology staff and any other medical professionals associated with our clinical research protocols.
The Clinical Research Coordinator I fulfills the requirements of recruiting, enrolling and conducting follow- up of study participants in clinical trials related to all therapeutic areas represented throughout MemorialCare. In doing so, the Clinical Research Coordinator I is responsible for coordinating trial participation of study volunteers with the trial's protocol, company and trial Standard Operating Procedures (SOPs), Good Clinical Practice (GCP)/ International Conference on Harmonization (ICH) guidelines, FDA regulations and other applicable regulations (global, state, etc.). The Clinical Research Coordinator I is responsible for working with the trial delivery team to meet enrollment and retention goals and ensure compliance with the study protocol. After hours support and coverage may be needed to adequately meet the needs of the research subject and/or adhere to the protocol recruitments.
Essential Functions and Responsibilities of the Job
Under direct supervision of the Director of Clinical Operations, Manager of Clinical Operations and principal investigator, the CRC I is responsible for enlisting, maintaining, and assuring protocol compliance for all study participants in clinical trials.

Collaborates with study investigator in determining eligibility of potential participants in clinical trials.

Screens potential participants for protocol eligibility. Presents trial concepts and details to the participant, participates in the informed consent process, and enrolls participants in study protocol.

Ensures research quality by practicing in compliance with Standard Operating Procedures (SOP), principles of Good Clinical Practice (GCP) and applicable federal, state, and local regulations.

Coordinates patient care in compliance with protocol requirements. May disburse investigational drug and provide participants' education regarding medication administration.

Maintains investigational drug accountability, when needed, in cases where the Research Pharmacy is not maintaining that responsibility.

In collaboration with the study investigator, reviews study participants for changes in condition, adverse events, concomitant medication use, protocol compliance, response to study drug and thoroughly documents all findings.

Responsible for accurate and timely data collection, documentation, entry, and reporting. 

Schedules and participates in monitoring and auditing activities.

Maintains current and accurate documentation in the regulatory binder(s) as required by regulations and sponsors.

Participates in required training and education programs.

Provides a safe environment for study participants, caregivers, and study personnel at all times through compliance with all federal, state, and professional regulatory standards. Maintains strict patient confidentiality according to HIPAA regulations and applicable law.

Participates in the after-hours support and coverage schedule, if necessary.

Be at work and be on time.

Interacts in a positive and constructive manner.

Follows company policies, procedures and directives.
Pay Range: $31.84-$46.19
Placement in the pay range is based on multiple factors including, but not limited to, relevant years of experience and qualifications. In addition to base pay, there may be additional compensation available for this role, including but not limited to, shift differentials, extra shift incentives, and bonus opportunities. Health and wellness is our passion at MemorialCare—that includes taking good care of employees and their dependents. We offer high quality health insurance plan options, so you can select the best choice for your family. And there's more...Check out our MemorialCare Benefits for more information about our Benefits and Rewards.
Experience
• Minimum of two (2) years of clinical research experience required.
• Knowledge of clinical trial federal, state and local regulation requirements preferred.
• Excellent interpersonal and communication skills required.
• Ability to read and understand clinical trial protocols required.
• Strong data management skills and attention to detail required.
• Familiarity with medical terminology/environment required.
• Extensive knowledge of Microsoft Office (Word, Excel, and Adobe Acrobat) required.
Education
• Associates degree or equivalent education required.
• Bachelor's degree in relevant field preferred.
• Research certification (e.g. ACRP, SoCRA or equivalent) preferred.
• Phlebotomy certification preferred.
• Current CITI training preferred.
Jobs For You
You have not recently viewed any jobs.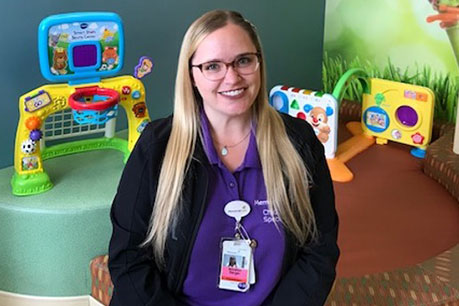 "I love working at Miller Children's & Women's Hospital Long Beach because I value working for a company that invests in its employees and the community we serve. From the support and guidance I receive from managers who value my professional and personal growth; to being able to work alongside colleagues who are dedicated to help their patients and families. I feel inspired every day to do the work that I love alongside people who share a similar vision."