Front Office Assistant - FT/Variable w/ Sign on $1,500 - Long Beach
Location: Long Beach, California
Schedule: Full-time
Shift: Full-time
Job Listing: MEM006939
Shifts are variable including M, W, F 8am to 5pm, Tue & Th 5pm to 9pm, and every other Saturday and Sunday 8am to 5pm
Position Summary: Responsible for the front office duties in support of all medical practices as assigned utilizing the five (5) Simply Better steps with every patient and team member interaction.
Essential Job Outcomes
Ensure Pre-Arrival patient process is complete.

Assist new patients with Patient Information Forms.

Accurately verify patient registration data. Verify insurance eligibility prior to patient visit, collect and receipt payments accurately and follow through with all changes. Produce error-free batches which include counting and balancing in agreement with EHR.

Maintain knowledge of insurance requirements including patient financial obligations.

Demonstrate proficiency in computer management systems.

Knowledge of computer scheduling functions, using proper registration protocols with all new patients, editing existing patient data, and utilizing proper visit types.

Confirm and reschedule all appointments as directed. Reschedule any bumped appointments. Process arrived, cancelled, rescheduled, and no-show appointments per protocol.

Answer all calls within 3 rings. Screen and direct all incoming telephone calls in an efficient and professional manner.

Monitor lobby for prolonged patient waiting by notifying appropriate party (patient/provider/nurse) when extended waiting time occurs. Notify Management of patient issues.

Ensure patient areas are safe, clear, and free from hazards.

Identify improvement opportunities, implement countermeasures and escalate to appropriate management resource as needed.

Receive, file, sort, and distribute all incoming and outgoing materials appropriately.

Perform any additional or miscellaneous duties as requested by the management team within the scope of knowledge and ability.

"Other duties as assigned".
Pay Range: $20.00 to $23.33
Placement in the pay range is based on multiple factors including, but not limited to, relevant years of experience and qualifications. In addition to base pay, there may be additional compensation available for this role, including but not limited to, shift differentials, extra shift incentives, and bonus opportunities. Health and wellness is our passion at MemorialCare—that includes taking good care of employees and their dependents. We offer high quality health insurance plan options, so you can select the best choice for your family. And there's more...Check out our MemorialCare Benefits for more information about our Benefits and Rewards.
Experience
• One (1) year minimum of Customer Service in any field preferred.
• Prior medical office experience preferred.
Education
• High School graduate or equivalent required.
• Medical Terminology Certificate preferred.
• Current BLS for Healthcare Provider required
Jobs For You
You have not recently viewed any jobs.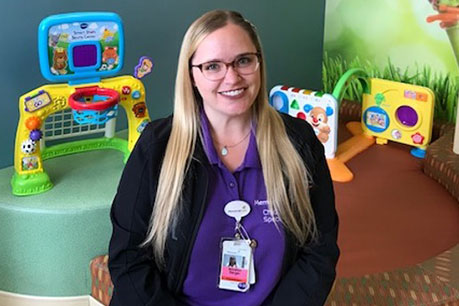 "I love working at Miller Children's & Women's Hospital Long Beach because I value working for a company that invests in its employees and the community we serve. From the support and guidance I receive from managers who value my professional and personal growth; to being able to work alongside colleagues who are dedicated to help their patients and families. I feel inspired every day to do the work that I love alongside people who share a similar vision."