Imaging Services Manager, Radiology Diagnostic - FT/Days (8hr)
Location: Long Beach, California
Schedule: Full-time
Shift: Full-time
Job Listing: LON007731
At MemorialCare Health System, we believe in providing extraordinary healthcare to our communities and an exceptional working environment for our employees.  Memorial Care stands for excellence in Healthcare.  Across our family of medical centers, we support each one of our bright, talented employees in reaching the highest levels of professional development, contribution, collaboration and accountability.  Whatever your role and whatever expertise you bring, we are dedicated to helping you achieve your full potential in an environment of respect, innovation and teamwork.
Position Summary
The incumbent has shared accountability for the success of the division of Imaging Services and for compliance to applicable regulatory codes. The incumbent plans, organizes, leads, controls and monitors the status and flow of daily activities within imaging services to assure delivery of continuous, prompt and uninterrupted quality service to patients and physicians in a cost-effective manner. The incumbent reports to the Director of Imaging Services whose areas of responsibility include Diagnostic Radiology, CAT Scan, MRI, Ultrasound, Nuclear Medicine, PET, Pediatric Radiology, Ultrasound and the MemorialCare Imaging Center.
Essential Functions and Responsibilities of the Job
Management:

Staff recruitment, training and retention, disciplinary counseling and annual review process, assignment of work schedules and awareness of union contract.

Client Service Support:

Establish and maintain physician and staff satisfaction

Integrate Activities:

Analyzes and implements effective solutions to problems, integrates technical and

non-technical functions, adheres to regulatory compliance, develops written policy and procedures.

Represents Imaging:

Communication, reporting by committee attendance and participation.

Capital Equipment:

Provides input for space planning and equipment acquisition.
Accountability Summary: 
Managing - 25%
Client Service Support - 25%
Integrate Activities - 25%
Representing Imaging - 15%
Capital Equipment - 10%
Minimum Requirements
Qualifications/Work Experience:
At least 3 years of management experience is preferred.

CRT license from the California Department of Public Health, required.

Must have a thorough working knowledge of the medical center network, its policies and procedures, excellent time management and computer skills in order to facilitate cost effective, high quality patient care in a timely manner.
Jobs For You
You have not recently viewed any jobs.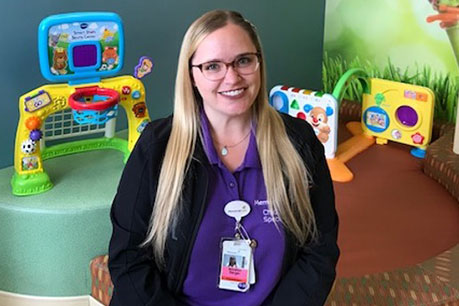 "I love working at Miller Children's & Women's Hospital Long Beach because I value working for a company that invests in its employees and the community we serve. From the support and guidance I receive from managers who value my professional and personal growth; to being able to work alongside colleagues who are dedicated to help their patients and families. I feel inspired every day to do the work that I love alongside people who share a similar vision."