Infusion Pharmacy Technician - Per Diem/Days (8hr) - Long Beach
Location: Long Beach, California
Schedule: Per Diem
Shift: Per Diem
Job Listing: LON009390
At MemorialCare Health System, we believe in providing extraordinary healthcare to our communities and an exceptional working environment for our employees.  Memorial Care stands for excellence in Healthcare.  Across our family of medical centers, we support each one of our bright, talented employees in reaching the highest levels of professional development, contribution, collaboration and accountability.  Whatever your role and whatever expertise you bring, we are dedicated to helping you achieve your full potential in an environment of respect, innovation and teamwork.
Position Summary
The Pharmacy Technician Per Diem works cooperatively with pharmacy staff to provide safe, accurate and timely delivery of medications to patients.  Under the direct supervision of a pharmacist, the Pharmacy Technician Resource processes new orders, accesses appropriate patient information in the electronic health record (EHR), issues drug doses to nurses, fills unit dose cassettes and automated dispensing cabinets (ADC), packages and compounds patient doses and maintains drug inventories.
Essential Functions and Responsibilities of the Job
Has the ability to triage medication requests and fill new medication orders accurately and efficiently, organizing his/her work to allow the pharmacist to efficiently check the medications prepared. 

Understands the laws governing the maintenance of appropriate drug control for all drugs, including Schedules II-V.                                   

Able to effectively use computer and automation resources relevant to their practice area to accurately provide medications in a timely manner and ensure accurate billing.                               

Able to accurately fill patient medication cassettes, automated dispensing cabinets (ADCs) or drug delivery bins and/or restock ADC medications in a timely manner as relevant to their practice.

Able to deliver/exchange cassettes/drug delivery bins and/or restock ADC medications in a timely manner as relevant to their practice area.                                

Able to order and restock inventory to maximize inventory turnover, prevent stock-outs, and minimize expired drugs. 

Ensures correct storage conditions for medications, documents temperature logs, checks for expired drug products and other defects and removes them from inventory.                        

Able to extemporaneously prepare unit dose packages, compound oral solutions and prepare uncomplicated IV admixtures or patient-specific unit dose injections using proper aseptic technique and following USP 797 standards as relevant to their practice area.
Pay Rate: $24.00/hr
Placement in the pay range is based on multiple factors including, but not limited to, relevant years of experience and qualifications. In addition to base pay, there may be additional compensation available for this role, including but not limited to, shift differentials, extra shift incentives, and bonus opportunities. Health and wellness is our passion at MemorialCare—that includes taking good care of employees and their dependents. We offer high quality health insurance plan options, so you can select the best choice for your family. And there's more...Check out our MemorialCare Benefits for more information about our Benefits and Rewards.
Minimum Requirements
Qualifications/Work Experience:
1+ year of experience as a hospital pharmacy inpatient technician or successful completion of a recognized pharmacy-technician training program.

Has knowledge of medical and pharmacy terminology, weights and measures, and pharmacy calculations.

Ability to effectively communicate verbally with coworkers and health care workers.

Ability to stand for up to eight hours a day, type at least 30 words per minute, lift up to 25 pounds, bend, stoop and reach above and below shoulder level, and push/pull carts.
Education/Licensure/Certification:
Current licensure as a pharmacy technician in the State of California.
Jobs For You
You have not recently viewed any jobs.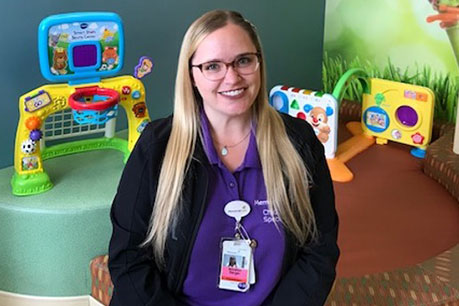 "I love working at Miller Children's & Women's Hospital Long Beach because I value working for a company that invests in its employees and the community we serve. From the support and guidance I receive from managers who value my professional and personal growth; to being able to work alongside colleagues who are dedicated to help their patients and families. I feel inspired every day to do the work that I love alongside people who share a similar vision."