Director, Nursing Excellence and Magnet Program
Location: Long Beach, California
Schedule: Full-time
Shift: Full-time
Job Listing: LON009298
Position Summary:
Directly accountable for ensuring that LBMC and MCWH maintain the Magnet Program® designation requirements and the Nursing Services Shared Governance structure and processes. The Magnet Program Director reports directly to the Chief Nursing Executive and Chief Nursing Officers of LBMC and MCWH.
Principal Duties and Responsibilities:
The Magnet Program Director (MPD) serves as a leader and is responsible for coordinating all aspects of the American Nursing Credentialing Center (ANCC) Magnet application, designation and re-designation processes. The MPD serves as the Magnet advisor to the Chief Nursing Officers of LBMC and MCWH, the Nursing Executive Committee, and nursing leadership. The MPD is the liaison to the ANCC Magnet Program Office. The primary focus of the MPD role is developing, implementing, maintaining, monitoring and overseeing the overall Magnet Recognition Program®. The MPD develops and implements organizational strategies and infrastructure to support shared governance, and coordinates nursing quality improvement processes, both essential components of the Magnet Recognition Program. The MPD collaborates with and utilizes the Quality Improvement Department in project management, data collection, data analysis, data reporting, and data display for nursing performance improvement initiatives. The MPD acts as a liaison and resource within the organization to promote nursing excellence and maintain nursing quality outcomes above the national/hospital benchmark. A major part of the MPD's responsibility is to facilitate the Shared Governance Councils and unit-based Partnership councils to promote Magnet enculturation. The MPD develops and effectively manages the Magnet budget.
Key components of the MPD role center on leadership, consultation, collaboration, professional communication, project management, program development, nursing performance improvement, and analysis of data systems and processes. The MPD must be able to define, prioritize and achieve goals and objectives with a focus on quality outcomes. The MPD is expected to be self-managed and perform duties independently as well as work within teams. The MPD develops and maintains effective relationships with a variety of individuals throughout the institution.
Pay Range: 158k- 237k
Placement in the pay range is based on multiple factors including, but not limited to, relevant years of experience and qualifications. In addition to base pay, there may be additional compensation available for this role, including but not limited to, shift differentials, extra shift incentives, and bonus opportunities. Health and wellness is our passion at MemorialCare—that includes taking good care of employees and their dependents. We offer high quality health insurance plan options, so you can select the best choice for your family. And there's more...Check out our MemorialCare Benefits for more information about our Benefits and Rewards.
Education
Doctoral strongly preferred

Master's Degree in Nursing

Professional certification preferred
Experience
Minimum of three years of nursing management/leadership experience.

Prefer project management experience and a minimum of 2 year's experience leading an acute care hospital through the Magnet designation and/or Magnet re-designation process including preparation of all related documentation.

Able to manage time and stress effectively.

Teaching, coaching and presentation skills.

Advanced/expert verbal, written, and computer skills.

Ability to inspire, motivate, and provide leadership to nursing staff at all levels.
Jobs For You
You have not recently viewed any jobs.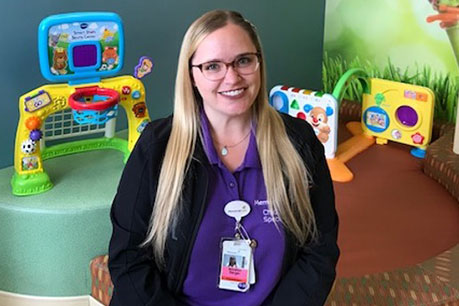 "I love working at Miller Children's & Women's Hospital Long Beach because I value working for a company that invests in its employees and the community we serve. From the support and guidance I receive from managers who value my professional and personal growth; to being able to work alongside colleagues who are dedicated to help their patients and families. I feel inspired every day to do the work that I love alongside people who share a similar vision."