Occupational Therapist II - NICU Pediatrics
Location: Long Beach, California
Schedule: Per Diem
Shift: Per Diem
Job Listing: MIL003256
Title: Occupational Therapist II
Location: Long Beach Memorial Medical Center - Miller Children's Hospital
Department: NICU Pediatrics
Status: Per Diem
Shift: Days (8hr)
Pay Range*: $58.00/hr.
At MemorialCare Health System, we believe in providing extraordinary healthcare to our communities and an exceptional working environment for our employees. Memorial Care stands for excellence in Healthcare. Across our family of medical centers, we support each one of our bright, talented employees in reaching the highest levels of professional development, contribution, collaboration and accountability. Whatever your role and whatever expertise you bring, we are dedicated to helping you achieve your full potential in an environment of respect, innovation and teamwork.
Position Summary
The Occupational Therapist II evaluates and assists individual patients in developing, recovering, and maintaining daily living and work skills. He/she works with patients who have mental, physical, developmental, or emotional disabilities, and aims to maximize independence and recovery for every patient. The Occupational Therapist II performs intake assessments and implements an individualized treatment plans to effectuate patient goals.
Essential Functions and Responsibilities of the Job
Works collaboratively with the multidisciplinary healthcare team and community agencies to provide education, resources and referrals. Participates in consultation and coordination of services in the hospital and with community agencies as required or appropriate.

Provides a comprehensive evaluation of the patient's cognitive, perceptual, and physical abilities, as well as an evaluation of the patient's home and work environments. Confers with patient and family to develop recommendations for necessary adaptations to any mental, physical, developmental, or emotional disabilities.

Collaborates with the patient's multidisciplinary healthcare team to assist in establishing and implementing the patient's occupational therapy plan. Independently examines the patient's medical record to supplement input from the healthcare team.

Accurately files and documents the patient's individualized occupational therapy treatment plan. Reviews the finalized plan with the patient and family to verify that all patient concerns are addressed in an effort to maximize independence and recovery. Ensures that the plan sets concreate goals achievable through effective implementation of treatment modalities.

Provides regular updates in progress to the patient, family, and the multidisciplinary healthcare team. Promptly documents progress and files appropriate billing charges per departmental policy.

Supervises implementation of the occupational therapy plan carried out by affiliated staff, including aides, assistants, and students. Provides direct patient care as appropriate.

Serves as an information resource for patients and family regarding issues beyond the hospital visit, including community assistance programs, medical equipment, and physician referrals for follow-up care.

Actively participates in departmental program development. Identifies and suggests updates and modifications to departmental policies and procedures to reflect best practices in accordance with national standards.

Performs other duties as assigned.
*Placement in the pay range is based on multiple factors including, but not limited to, relevant years of experience and qualifications. In addition to base pay, there may be additional compensation available for this role, including but not limited to, shift differentials, extra shift incentives, and bonus opportunities. Health and wellness is our passion at MemorialCare—that includes taking good care of employees and their dependents. We offer high quality health insurance plan options, so you can select the best choice for your family. And there's more...Check out our MemorialCare Benefits for more information about our Benefits and Rewards.
Minimum Requirements
Qualifications/Work Experience:
1+ years prior work experience in occupational therapy is required. Has demonstrated interest, aptitude, and skill in the area of student program, clinical education, and program development.
Education/Licensure/Certification:
California Occupational Therapist License required.

National Board Certification in Occupational Therapy (NBCOT) is recommended

Memberships in the American Occupational Therapy Association (AOTA) and the Occupational Therapy Association of California (OTAC) are recommended

BLS required
Jobs For You
You have not recently viewed any jobs.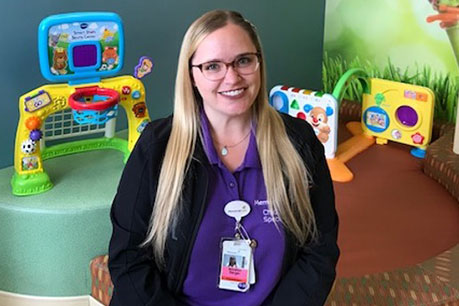 "I love working at Miller Children's & Women's Hospital Long Beach because I value working for a company that invests in its employees and the community we serve. From the support and guidance I receive from managers who value my professional and personal growth; to being able to work alongside colleagues who are dedicated to help their patients and families. I feel inspired every day to do the work that I love alongside people who share a similar vision."