Patient Services Technician, Pediatric Cardiac ICU - FT/Nights (12hr)
Location: Long Beach, California
Schedule: Full-time
Shift: Full-time
Job Listing: MIL002115
At MemorialCare Health System, we believe in providing extraordinary healthcare to our communities and an exceptional working environment for our employees. Memorial Care stands for excellence in Healthcare. Across our family of medical centers, we support each one of our bright, talented employees in reaching the highest levels of professional development, contribution, collaboration and accountability. Whatever your role and whatever expertise you bring, we are dedicated to helping you achieve your full potential in an environment of respect, innovation and teamwork.
Position Summary
The Patient Services Technician provides support services for the Pediatric Cardiac ICU at MemorialCare Long Beach Medical Center, primarily through assistance with clerical duties. This position reports at all times to a supervisor nurse. The Patient Services Technician independently seeks to identify and resolve questions and concerns from patients and their families, initiating contact with caregivers whenever appropriate. At all times he/she aims to ensure patient safety, comfort, and satisfaction.
Essential Functions and Responsibilities of the Job
Demonstrates accuracy in computer input.

Performs clerical skills to facilitate the accurate and efficient operation of the assigned patient care areas. Organizes work to facilitate a smooth and efficient practice.

Initiates and develops communication in order to promote a cohesive health care environment and facilitate effective working relationships.

Communicates clearly and effectively verbally and in writing.

Practices customer service excellence.

Supports a safe and effective workplace environment through strong team dynamics and a positive approach to workplace duties/assignments.

Performs other related duties as required to assist with the smooth operation of the assigned area.

Completes age specific competency requirements of assigned department.

Completes all required certifications of the Division of Nursing.

To increase performance improvement and create a cooperative team environment the registered nurse creates and supports a 'no gossip' work environment. All issues and complaints go up to the supervisor and not to coworkers who can't do anything about the issue.
Qualifications/Work Experience:
One-year recent experience as a Unit Secretary, CCT, GPT or as Ward Clerk in a comparable size facility, preferably within the same or similar specialty. (Preferred)

Proficient in Medical Terminology
Education/Licensure/Certification:
High School Diploma or equivalency or evidence of higher education required.

Completion of a Medical Terminology class.

Basic computer skills

Current American Heart Association BLS certification

Customer Service Training

One of the following: Past experience as a Unit Secretary, CCT, GPT (preferred) OR successful completion of one semester in an accredited RN program
Jobs For You
You have not recently viewed any jobs.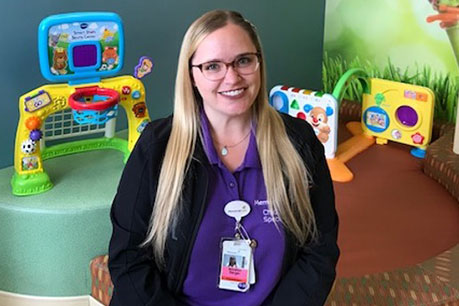 "I love working at Miller Children's & Women's Hospital Long Beach because I value working for a company that invests in its employees and the community we serve. From the support and guidance I receive from managers who value my professional and personal growth; to being able to work alongside colleagues who are dedicated to help their patients and families. I feel inspired every day to do the work that I love alongside people who share a similar vision."