Polysomnographic Tech II - Per Diem/Days (8hr) - Long Beach
Location: Long Beach, California
Schedule: Per Diem
Shift: Per Diem
Job Listing: LON009810
At MemorialCare Health System, we believe in providing extraordinary healthcare to our communities and an exceptional working environment for our employees. Memorial Care stands for excellence in Healthcare. Across our family of medical centers, we support each one of our bright, talented employees in reaching the highest levels of professional development, contribution, collaboration and accountability. Whatever your role and whatever expertise you bring, we are dedicated to helping you achieve your full potential in an environment of respect, innovation and teamwork.
Position Summary
A Polysomnographic Technologist II works under the general supervision of the medical director or designee to provide comprehensive evaluation and treatment of sleep disorders. This may involve polysomnography, diagnostic and therapeutic services or patient care and education.
Essential Functions and Responsibilities of the Job
Gathers and Analyzes Patient Information: Reviews history, physical information, medications, procedure request, and study protocol. Completes and verifies documentation. Explains the procedure and orients the patient and family members to the sleep center.

Polysomnographic Procedures: Prepares and calibrates equipment required for testing to determine proper functioning and make adjustments, if necessary. Applies electrodes and sensors according to accepted published standards. Performs appropriate physiologic calibrations to ensure proper signals and make adjustments, if necessary. Performs routine positive airway pressure (PAP) mask fitting.

Testing Preparation Procedures: Follows department procedural protocols for Routine polysomnography, PAP and oxygen titration, to ensure collection of appropriate data. Follows department procedural protocols for Multiple Sleep Latency Test (MSLT), Maintenance of Wakefulness Test (MWT), Follows "lights out" procedures to establish and document baseline values. Performs polysomnographic data acquisition while monitoring study-tracing quality to ensure signals are artifact-free and make adjustments, if necessary.

Documents routine observations, including sleep stages and clinical events, changes in procedure, and other significant events in order to facilitate scoring and interpretation of polysomnographic results. Implements appropriate interventions (including actions necessary for patient safety and therapeutic intervention such as continuous and bi-level positive airway pressure, ASV titrations, oxygen administration, etc.)

Polysomnographic Record Scoring: Assists with scoring sleep/wake stages by utilizing the AASM Manual for the Scoring of Sleep and Associated Events. Assists with scoring clinical events (such as respiratory events, cardiac events, limb movements, arousals, etc.) by utilizing the AASM Manual for the Scoring of Sleep and Associated Events. Assists with the generation of accurate reports by tabulating sleep/wake and clinical event data.

Responsible for working with daytime patients, Home Sleep Testing patients for instruction and education on sleep testing. Possible Travel to alternative Sleep testing site locations is required. This positon is 8 hour shifts Monday through Friday and can required working at our Long Beach, Los Alamitos or future locations as needed.

Coordinate follow up care with all patients that have sleep testing in the center, to ensure follow up study is coordinated if indicated, and status of overall patient sleep quality. This information shall be documented in patient chart.

The position will require detailed analytical skills and ability to coordinate care instructions to patient and referring doctor staff.

Works with front office staff, to answer clinical related questions and concerns from patients and physicians.

Performs other duties as assigned.
Pay Rate: $25.00/hr
Placement in the pay range is based on multiple factors including, but not limited to, relevant years of experience and qualifications. In addition to base pay, there may be additional compensation available for this role, including but not limited to, shift differentials, extra shift incentives, and bonus opportunities. Health and wellness is our passion at MemorialCare—that includes taking good care of employees and their dependents. We offer high quality health insurance plan options, so you can select the best choice for your family. And there's more...Check out our MemorialCare Benefits for more information about our Benefits and Rewards.
Minimum Requirements
Qualifications/Work Experience:
3+ years' experience in the field of Polysomnography. In lieu of this experience, consideration will be made for an employee with strong education and associated experiential background.

Strong patient communication and phone skills needed.

Ability to review clinical patient data and analysis for continuing care.

Self-motivated, high level of quality care individual with ability to handle multiple roles, locations and tasks, meet deadlines while maintaining standards set forth at the sleep center.

Strong working knowledge and ability for Microsoft Office, Outlook, Word, Excel and Epic.
Education/Licensure/Certification:
Successful completion of an accredited educational program leading to an associate degree with an emphasis in polysomnography/or a polysomnography program of 1+ year duration associated with a state licensed and/or a nationally accredited educational facility OR equivalent experience and documented proficiency at all competencies required of a Sleep Technician/or Current Certification/License by the Medical Board of California and credential from the Board of Registered Polysomnographic Technologists (BRPT).

RPSGT license required.

California Medical Board State License required.

Current American Heart Association BLS card required
Jobs For You
You have not recently viewed any jobs.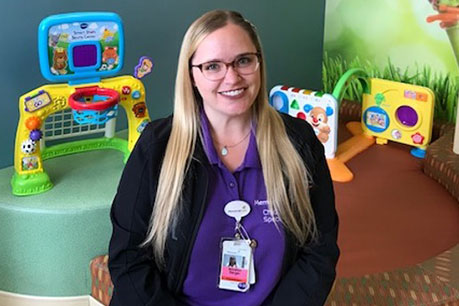 "I love working at Miller Children's & Women's Hospital Long Beach because I value working for a company that invests in its employees and the community we serve. From the support and guidance I receive from managers who value my professional and personal growth; to being able to work alongside colleagues who are dedicated to help their patients and families. I feel inspired every day to do the work that I love alongside people who share a similar vision."