Registered Dietitian II - FT/Days
Location: Long Beach, California
Schedule: Full-time
Shift: Full-time
Job Listing: LON007083
Position Summary
The Registered Dietitian (RD) II is a journey level position that reflects an advanced level of practice.  The RD II is working towards a specialty certification or developing advanced skills and knowledge within a defined area.  The RD II is responsible for collaborating with members of the health care team to provide patients medical nutrition therapy (MNT) using current, scientific literature and best practices.  Utilizing the Nutrition Care Process, the RD II performs nutrition assessment, diagnoses nutrition-related problems, determines and implements appropriate interventions, monitors and evaluates the outcome of interventions.  The RD II provides nutrition education to patients, caregivers, and family members.   He/She participates in or leads performance improvement activities and research assignments.  The RD II acts as a mentor to dietetic interns, students, and level I RDs.  
Essential Job Outcomes & Functions
Performs nutrition assessment using accurate and relevant data and information to identify nutrition-related problems including:  anthropometrics, biochemical data, medical tests, nutrition-focused physical findings, nutrition-related history, and comparitive standards.  Identifies and labels specific nutrition diagnosis(es) derived from the assessment data.  Prioritizes and classifies the nutrition diagnosis(es).
Identifies and implements appropriate, purposefully planned interventions for patients utilizing the best available research/evidence, evidence-based guidelines, and best practices.   
Monitors and evalutes indicators and outcomes data directly related to the nutrition diagnosis, goals, and intervention strategies to determine patient progress.  Revises or adjusts the nutrition care plan accordingly. 
Provides nutrition education/nutrition counseling to patients, family members and/or caregivers as a component of preventative, therapeutic and/or restorative health care.
Attends department meetings, huddles, in-services, and trainings.  Participates in or leads committee activities (i.e. partnership councils, carelines) as assigned.  
Actively participates in, or leads Performance Improvement, clinical projects and/or research as assigned.
Assists in the orientation and development of students, dietetic interns, level I RDs, and new staff members as assigned.  Participates in nutrition-related presentations or in-services for medical staff, residents, interns, nurses, and colleagues.  Develops and evaluates nutrition education materials and resources. 
Actively maintains professional development and clinical competency.  Develops advanced knowledge and skills in a dedicated area of nutrition therapy.
Performs other duties as assigned.
Qualifications/Work Experience
Demonstrated expertise in medical nutrition therapy. 2+ years clinical experience in an acute care setting. Demonstrated effective communication skills, both written and verbal. Proficient in utilizing electronic medical record. The ability to work independently or with minimal guidance. Demonstrated professional development.
Education/Licensure/Certification
Baccalaureate degree granted by a U.S. regionally accredited college or university. Master's degree in a nutrition related field is highly desirable. Successful completion of a Didactic Program in Dietetics and Dietetic Internship or a Coordinated Program in Dietetics accredited by ACEND, preferably with a strong clinical component. Current RD (also known as RD/N) certification confirmed by the Commission on Dietetic Registration. Compliance with the CDR Professional Development Portfolio requirements. Academy of Nutrition and Dietetics, American Society of Enteral and Parental Nutrition, or National Certification Board for Diabetes Educators conferred specialty certification is preferred as applicable to patient care assignment.
Jobs For You
You have not recently viewed any jobs.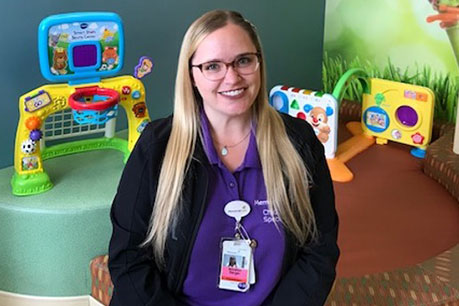 "I love working at Miller Children's & Women's Hospital Long Beach because I value working for a company that invests in its employees and the community we serve. From the support and guidance I receive from managers who value my professional and personal growth; to being able to work alongside colleagues who are dedicated to help their patients and families. I feel inspired every day to do the work that I love alongside people who share a similar vision."