Speech Therapist I, Inpatient Therapy - PD/Days (8hr) - Long Beach
Location: Long Beach, California
Schedule: Per Diem
Shift: Per Diem
Job Listing: LON009329
At MemorialCare Health System, we believe in providing extraordinary healthcare to our communities and an exceptional working environment for our employees. MemorialCare stands for excellence in Healthcare Across our family of medical centers, we support each one of our bright, talented employees in reaching the highest levels of professional development, contribution, collaboration and accountability. Whatever your role and whatever expertise you bring, we are dedicate to helping you achieve your full potential in an environment of respect, innovation and teamwork.
Position Summary
Under general supervision, the per diem Speech therapist I conducts patient assessments, participates in the development of the plan of care, implements treatment, and provides care according to patient specific age and/or developmental needs. Demonstrates flexibility and good communication skills and collaborates with other health care team members in the delivery of care.
Essential Job Outcomes and Functions
Independently conducts assessments and provides treatment to patients of moderate complexity. Communicates with developmental, social, and cultural sensitivity.
Completes thorough, accurate, and timely documentation of care provided.
Manages time effectively and balances direct patient care requirements with other departmental expectations. Maintains productivity standards and manages resources in a cost effective manner.
Communicates with team members, colleagues, patients, and families in a professional and positive manner, embodying MemorialCare values in daily interactions with others. Demonstrates clear and concise communication and is respectful and supportive of other team members. Participates in case conferences and team rounds as appropriate to case load and assignment. Works collaboratively with patients, families, healthcare team, and community agencies to provide education, resources, and referrals.
Sets goals for continued professional growth. Participates in formal and informal education to improve clinical skills and meet best practice standards. Completes core competencies relative to work area/population and participates in verification of competencies for Level I speech therapists. Holds oneself accountable for meeting all job responsibilities, delegating to other team members, as necessary, to provide safe, quality patient care. Identifies and reports problems or conflict using an appropriate chain of command. Appropriately involved in student program.
Demonstrates behaviors that support performance improvement activities through direct patient care and/or via participation in a workshop/project/program in the department or relevant unit/area as appropriate.
Pay Rate: $55.00/hr.
Placement in the pay range is based on multiple factors including, but not limited to, relevant years of experience and qualifications. In addition to base pay, there may be additional compensation available for this role, including but not limited to, shift differentials, extra shift incentives, and bonus opportunities. Health and wellness is our passion at MemorialCare—that includes taking good care of employees and their dependents. We offer high quality health insurance plan options, so you can select the best choice for your family. And there's more...Check out our MemorialCare Benefits for more information about our Benefits and Rewards.
Minimum Requirements
Work experience:
Completion of Clinical Fellowship Year (CFY) preferred, not required
Clinical affiliation in a pediatric setting is recommended
Education/Licensure/Certification:
Licensure by the California Speech-Language Pathology Board or working under Provisional RPE licensure. Working toward completion of Clinical Fellowship issued by the American Speech and Hearing Association (ASHA). Preparation for CCS paneling
Current America Heart Association Basic Life Support (BLS) for Health Care Provider certification
Membership to the American Speech and Hearing Association (ASHA) & California Speech and Hearing Association (CSHA)
Jobs For You
You have not recently viewed any jobs.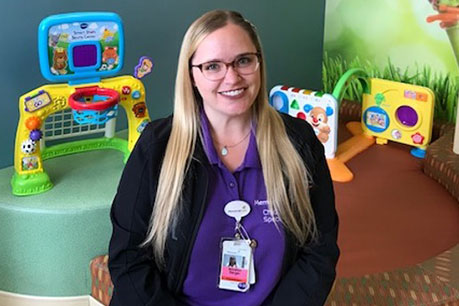 "I love working at Miller Children's & Women's Hospital Long Beach because I value working for a company that invests in its employees and the community we serve. From the support and guidance I receive from managers who value my professional and personal growth; to being able to work alongside colleagues who are dedicated to help their patients and families. I feel inspired every day to do the work that I love alongside people who share a similar vision."