Location: Long Beach, California
Schedule: Full-time
Shift: Full-time
Job Listing: LON009623
Purpose Statement/Position Summary
The trauma registrar systematically identifies trauma patients at LBMC and MCWHLB, and then abstracts data from the medical record for submission to the trauma registry as required by the State of California, LA County EMS Agency, Orange County Department of Health Services, and the American College of Surgeons. The abstractor provides physicians and administration with data needed to maintain a concurrent performance improvement and patient safety (PIPS) program, peer review data, and to compare our clinical performance with recognized standards.
Essential Job Outcomes & Functions
The abstractor identifies all trauma patients as required by regional, state, and national guidelines.  The abstractor is knowledgeable of pertinent regulatory requirements as well as specific data collection requirements and is able to handle confidential information according to hospital policy. The position interfaces with a variety of other departments and outside agencies, and supports management in achieving a high quality trauma program.
Job Specific Competencies
Determines the principle diagnoses, procedures, clinical data and demographic information to be reported to Department of Health Services (DHS) and National Trauma Data Bank (NTDB) for all trauma patients.
Abstracts pertinent data by reviewing patients' electronic medical records, remnant paper charts, and autopsy reports
Assigns appropriate ICD-10 codes for all principle diagnoses and procedures
Assigns appropriate Abbreviated Injury Scores (AIS) and Injury Severity Scores (ISS) for all principle diagnoses
Reviews PICU and ED logs to ensure all qualified patients are included in the data base
2.  Enters data, transmits electronic files, and maintains the trauma data base
Insures that data is entered into the trauma data base in accordance with contractual and department deadlines
Facilitates daily transmission of data to DHS and transmits data files to TQIP and NTDB as required
Reviews data entered by other department employees for accuracy of abstracting, coding, and data entry, participates in inter-rater reliability process
Performs routine clean-up of data and updates and maintains data retrieval reports
Maintains knowledge of data requirements as stipulated by LA County DHS and TQIP
3.   Expedites and maximizes reimbursement
Ensures that accurate financial data is entered in the trauma data base in accordance with contractual deadlines
Routinely provides pertinent demographic and financial information to the Trauma Program Director, other necessary hospital personnel, and multiple physician billing services
4.  Supports hospital administrators, medical staff, Trauma Service staff, and outside agencies
Creates data retrieval reports and prepares accurate and timely documentation or statistics as needed
Assists with preparation for ACS site visits, EMS Surveys, and financial audits
Identifies hospital performance improvement (PI) and documentation issues and refers them to the Trauma Program Director
Writes/edits department documents when needed
Provides cross-coverage for the Department Secretary and Coder by handling maintenance and telecommunications requests, ordering supplies, taking/transcribing meeting minutes, maintaining the Trauma Log, generating trauma charges, and any other necessary duties in their absence
Demonstrates inter-departmental collaboration
Serves as a resource for DHS employees and Trauma Program Directors/Data Coordinators in other hospitals
Provides additional support and performs other duties as assigned by the Trauma Program Director
Minimum Requirements/Work Experience
Completion of college-level courses in anatomy and medical terminology, clinical experience as LVN or RN preferred.
Experience coding with ICD-10 CM and competency in scoring injuries using the Abbreviated Injury Scale preferred
Computer data entry experience; knowledge of Microsoft Word and Excel software programs and of computer file maintenance methods
Ability to work independently
Education/Licensure/Certification
Certified Professional Coder (CPC), Registered Health Information Technician (RHIT) or equivalent certification preferred
Completion of American Trauma Society Trauma Registrar's Course within 12 months of hire
Completion of Association for the Advance of Automobile Medicine (AAAM) Abbreviated Injury Scale Course within 12 months of hire.
Completion of Certified Specialist in Trauma Registries (CSTR) within three years of hire.
Jobs For You
You have not recently viewed any jobs.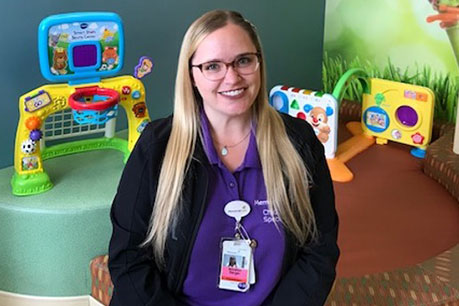 "I love working at Miller Children's & Women's Hospital Long Beach because I value working for a company that invests in its employees and the community we serve. From the support and guidance I receive from managers who value my professional and personal growth; to being able to work alongside colleagues who are dedicated to help their patients and families. I feel inspired every day to do the work that I love alongside people who share a similar vision."