Unit Secy/Monitor Tech, Observation Care - Adult - PT/Days (12hrs) - Long Beach
Location: Long Beach, California
Schedule: Part-time
Shift: Part-time
Job Listing: LON010087
Position Summary:
The Unit Secretary/ Monitor Technician provides clerical support functions to a specific patient care unit, while maintaining excellent customer service skills. This role works in conjunction with unit staff to organize and maintain the accurate accounting of all necessary data. In collaboration with the healthcare team, the Unit Secretary/ Monitor Technician will coordinate and prioritize patient, physician and staff needs. The key essential job functions of this role include customer focus and patient experience, coordination of provider-entered orders, communication, and time management. This position is also responsible for continuous monitoring of all telemetry areas and must report to RN staff any changes in rhythm.
Performs clerical skills to facilitate the accurate and efficient operation of the assigned unit
Files orders, reports and patient related information into charts in a timely manner; Demonstrates accuracy in computer input
Manages the work environment in order to maintain a safe work place and cost effective practice
Orders supplies for the unit, prepares and completes each patients chart for necessary forms needed on a daily basis; Ensures crash carts are immediately restocked with the appropriate items after each code
Transcribes physician orders from records with notation and signature by nursing staff; Checks for completeness, accuracy and correctness of patients record
Practices telephone etiquette when placing and answering calls for physicians, patient families and other departments
Assembles charts on new admissions and prepares charts for patient transfers
Maintains an organized nursing station, monitors for noise levels, ensures good work flow at the desk area
Monitors all telemetry units to detect and immediately report any changes in the patients' basic cardiac rhythm to the appropriate nursing personnel
Performs other duties as assigned
Pay Range: $21.70/hr - $25.05/hr
Placement in the pay range is based on multiple factors including, but not limited to, relevant years of experience and qualifications. In addition to base pay, there may be additional compensation available for this role, including but not limited to, shift differentials, extra shift incentives, and bonus opportunities. Health and wellness is our passion at MemorialCare—that includes taking good care of employees and their dependents. We offer high quality health insurance plan options, so you can select the best choice for your family. And there's more...Check out our MemorialCare Benefits for more information about our Benefits and Rewards.
Minimum Requirements / Work Experience
One year recent experience as a Unit Secretary preferred.
Proficient in Medical Terminology.
Successful completion of EKG course
Basic computer skills
Current AHA BLS certification
Education / Licensure / Certification
High School Diploma or equivalency or evidence of higher education required.
Jobs For You
You have not recently viewed any jobs.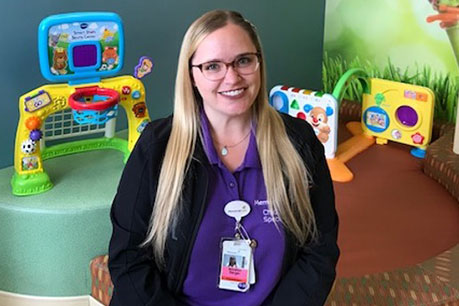 "I love working at Miller Children's & Women's Hospital Long Beach because I value working for a company that invests in its employees and the community we serve. From the support and guidance I receive from managers who value my professional and personal growth; to being able to work alongside colleagues who are dedicated to help their patients and families. I feel inspired every day to do the work that I love alongside people who share a similar vision."