Join a team of caring, compassionate Nurses at MemorialCare whose dedication has earned them the highly coveted Magnet® recognition for excellence in nursing and patient care across all of our facilities. The Registered Nurse provides a high level of professionalism, compassion and commitment to our patients by providing safe, efficient patient care through the health experience. MemorialCare Nurses exude the highest standards for nursing excellence, quality patient care, professional innovation and inter-professional collaboration.
Full-Time, Part-Time, Per-Diem
Southern California
Level: Mid, Senior
Success Profile
What makes a successful RN at MemorialCare? Check out the traits below to see if you have the right mix.
Collaborative
Communicator
Compassionate
Flexible
Multi-tasker
Team player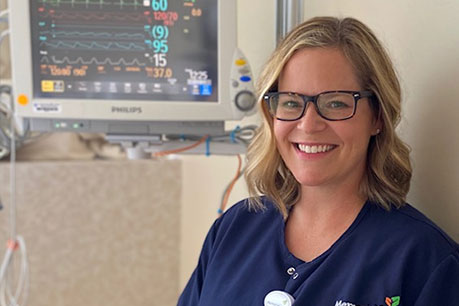 "I've worked at Long Beach Medical Center for almost 20 years, the majority of which has been spent as a bedside RN. With the support of the organization I was able to attain my Bachelor's and then Master's Degree by participating in the Tuition Reimbursement program. I've always felt one of the best things about Nursing is that I learn something new almost every day. I recently became a Clinical Educator and am finding it incredibly rewarding to not only facilitate education for others, but to continue building my own knowledge base with each new opportunity. These hallways have seen me say goodbye to loved ones, hold my baby for the first time, make life-long friends, and advance my career. My heart is where my home is, and my home is here!"
Mission
Mission
To improve the health and well being of individuals, families and our communities.
Vision
Exceptional People.
Extraordinary Care.
Every Time.

Benefits
Healthcare

Medical, Dental and Vision plans (HMO & PPO) & Flexible Spending Accounts (FSA)

Health and Wellness Programs

MemorialCare is committed to providing an environment and culture that empowers its employees to maintain or improve well-being through our nationally recognized "Good Life" program.

Employer Matching 401(K)

MemorialCare is committed to your financial success and provides the 401(k) Plan to help you save for retirement.

Professional Development

MemorialCare encourages and supports the professional growth of its employees by providing financial assistance to further their education.

Paid Time Off

A fully integrated PTO plan which includes; vacation, sick leave, holidays & personal days.

Life and Disability Insurance

Basic Life/AD&D is an employer paid benefit that is offered to Full-Time employees.
Responsibilities
Location:
Schedule: Full-time
Shift: Regular
Job Listing:PHY000490
Position Summary
A Certified Nurse-Midwife (CNM) is an individual educated in the two disciplines of nursing and midwifery, and who possesses evidence of certification according to the requirements of the American College of Certified Nurse-Midwives (ACNM).
The CNM provides a full range of primary health care services for women from adolescence on. These services include primary care, gynecologic and family planning services, preconception and prenatal care, childbirth and the postpartum period, and treatment for sexually transmitted infections. Provides initial and ongoing comprehensive assessment, diagnosis and treatment. Conduct physical examinations; prescribe medications including controlled substances and contraceptive methods; admit, manage, deliver spontaneous vaginal births, first assist in cesarean sections, round daily, and discharge patients; order and interpret laboratory and diagnostic tests and order the use of medical devices. Promote healthy living, disease prevention, and individualized wellness education and counseling.
Essential Functions and Responsibilities of the Job
In conformance with State Law, Nurse-Midwives practice under the supervision of an attending physician who has current privileges in the Department of Obstetrics and Gynecology. "Supervision" does not require the physical presence of the supervising physician. However, the supervising physician will be available within 30 minutes.
The Certified Nurse-Midwife is authorized to manage and care for normal patients during the antepartum, intrapartum, post partum and intraconceptual periods.
Conducting deliveries and caring for the newborn infant, including preventive measures and the detection of abnormal conditions.
Obtaining physician consultation and assistance.
Providing emergency care until physician assistance can be obtained.
In addition, the Scope of Practice for the Certified Nurse-Midwife of OCMMC includes first assistance on Cesarean Section and Gynecological surgery after satisfying Department proctoring requirements as defined elsewhere in this document.
A Certified Nurse-Midwife and physician jointly manage the care of a woman or newborn who has become medically, gynecology, or obstetrically complicated.
Principle Duties and Responsibilities:
A.            ADMISSION
Evaluates labor status for admission or discharge home.
Reviews prenatal record and perform a physical exam.
Obtains and dictates/writes complete history and physical as indicated.
Counsels patients in the appropriate birth alternatives within the Department policies.
Orders and interprets laboratory/diagnostic data.
Initiates protocols and standardized procedures when appropriate.
B.            LABOR
Manages essentially normal intrapartum patients.
Evaluates labor progress.
Assesses fetal status, including the use of external and/or internal monitoring.
When indicated, orders appropriate medications and solutions, including oxytocin, as specified by Department standardized procedures.
Performs amniotomy when indicated.
Assess size of fetus by using clinical estimate.
Applies fetal scalp electrode and/or intrauterine pressure catheter as indicated.
Amnioinfusion as indicated.
Evaluates need for appropriate analgesia.
Decides with the patient the need for epidural anesthesia and requests the anesthesiologist for his/her evaluation.
Informs pediatrician and supervising obstetrician of anticipated fetal complications.
Identifies complications, i.e., cord prolapse, fetal distress, abruptio placenta, etc., and institutes emergency measures until physician assistance is obtained.
C.            DELIVERY
Performs spontaneous vaginal delivery.
Administers local anesthesia.
Performs episiotomy when necessary. Repairs episiotomy/lacerations as needed.
Requests NICU RN, Respiratory Therapist, and if indicated, Neonatologist presence for delivery of an infant with significant meconium fluid.
Arranges delivery of the placenta and collection of cord blood and cord gas as indicated.
Obtains appropriate cultures for prolonged rupture of membranes/chorioamnionitis.
Orders appropriate antibiotics for chorioamnionitis after obtaining physician consultation.
Identifies complications, i.e.: shoulder dystocia, hemorrhage, retained placenta, etc., and institutes emergency measures until physician assistance is obtained.
Dictates/writes appropriate orders, notes, and summaries.
D.            MEDICATIONS
As specified by approved standardized procedures, Certified Nurse-Midwives may provide drug therapy as specified by department protocols and hospital formulary.
E.            POST PARTUM
Evaluates the mother and infant status in the immediate post partum period.
Encourage family bonding, support the members as seems appropriate to their needs.
Initiates routine post partum orders.
Signs birth certificates.
The Certified Nurse-Midwife performs rounds and the discharge of post partum patients per Department procedures; "Daily Evaluation and/or Discharge of Post Partum Patients" per standardized procedures.
Essential Job Outcomes 
Nurse-Midwifery Practice is the management of care of newborns and women, antepartally, intrapartally and/or gynecologically.
Other duties as assigned
Experience
Post education/training work experience as a CNM is preferred, but not required (new graduates will be considered)
Education
Must have graduated from an accredited nurse midwifery program
Be ACNM Board Certified (American College of Nurse-Midwives)
Possess current California RN, Midwife, Furnishing and Federal Drug Administration Licenses
Midwives must recertify every 5 years through AMCB and must meet specific continuing education requirements
Jobs For You
You have not recently viewed any jobs.