Communication Specialist I - FT/Days (Predominantly Remote)
Location: Fountain Valley, California
Schedule: Full-time
Shift: Full-time
Job Listing: MEM006658
The Communications Specialist I of Public Relations & Communications has exceptional writing skills, with meticulous attention to detail, works well under pressure and meets deadlines.  The communication specialist I should be organized and self-motivated with an interest in driving strategic messages to key internal and external audiences.  Responsible for writing a wide variety of internal and external collateral that communicates about products, services and initiatives. 
Takes the initiative to learn and understand all aspects of the business. Communicates with media regularly, fielding media inquiries, arranges and staffs interviews.  Researches, writes, and edits assignments that may include interviews with physicians, patients and staff, for articles, web copy, press releases, etc. 
Supports the Director, public relations/communications and maintains collaborative relationships with the marketing team, across the various workstreams of Brand/Digital, Service Line, and B2B/Outreach.  The employee will be expected to support all organizational expectations including, but not limited to, customer service, patient's rights, confidentiality of information, environment of care and MemorialCare initiatives. 
Essential Job Functions:
Proficient in composing original written works based on research, personal interviews and other information gathering techniques.  Ability to take a complex technical message and simplify it for the general population.

Responsible for developing, writing and editing and maintaining continuity, brand voice and consistency in communications for key stakeholders. This will include, but not limited to: e-newsletters, marketing collateral, web content, letters, press releases, video scripts, etc.

Supports team with assistance with power point presentations.

Contributes ideas for new communications initiatives, researching and recommending concepts that build awareness and reputation of the brand.

Manage/coordinate press at events from pitching to attend through execution at event and follow-up post release.

Research media coverage and industry trends; and develop fresh, proactive media story ideas.

Research, create and track calendars for awards, speaking opportunities, and more.

Manages collateral production, working with graphic designers, printers and other vendors to produce finished pieces within budgetary constraints and meeting all due dates and deadlines.

Maintain media contact list and track media coverage for MemorialCare entities and develop ongoing coverage reports on the effectiveness of the coverage in delivering the brand message and building positive association with the brand.

Must be able to work independently, make decisions and demonstrate initiative.

Timely writing and production of communication pieces.

Knowledge and use of Associated Press Style guidelines

Collaborates with entire marketing team, including Brand/Digital, Service Line and B2B/Outreach.

Functions as additional resource for the department by attending marketing events, physician presentations and sales meetings as needed. 

Performs other duties as assigned.
Pay Range: $30.34/hr - $43.98/hr
Placement in the pay range is based on multiple factors including, but not limited to, relevant years of experience and qualifications. In addition to base pay, there may be additional compensation available for this role, including but not limited to, shift differentials, extra shift incentives, and bonus opportunities. Health and wellness is our passion at MemorialCare—that includes taking good care of employees and their dependents. We offer high quality health insurance plan options, so you can select the best choice for your family. And there's more...Check out our MemorialCare Benefits for more information about our Benefits and Rewards.
Job Qualifications
Up to 2 years previous experience working as a communication specialist with knowledge of writing for the media, copywriting, proofreading and editing.
Education
Bachelor's degree in communications, journalism, English, public relations or related field.
Jobs For You
You have not recently viewed any jobs.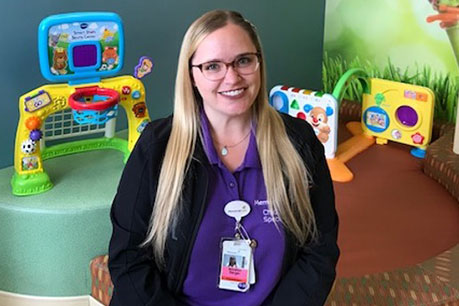 "I love working at Miller Children's & Women's Hospital Long Beach because I value working for a company that invests in its employees and the community we serve. From the support and guidance I receive from managers who value my professional and personal growth; to being able to work alongside colleagues who are dedicated to help their patients and families. I feel inspired every day to do the work that I love alongside people who share a similar vision."