Director, Contracts & Network Development
Location: Fountain Valley, California
Schedule: Full-time
Shift: Full-time
Job Listing: MEM006397
Purpose Statement / Position Summary
This position is responsible for providing strategic direction on Contracting and Network Development for all MCMF entities including Greater Newport Physicians, MCMF Contracted Specialists; MCMF Specialist agreements with IPA's or other provider groups; UCI Health IPA; UCI Health MSO when requested; Edinger Medical Group and any new entities when brought into the Medical Foundation. This position is responsible for overall Contract Administration including Maintenance and a Contract Management System effectively manage contracts including renewals processing and renegotiations and any ACO Contract Maintenance in support of ACO department. This position is also accountable for monitoring network adequacy of necessary specialties and ensuring access to necessary medical specialties including tertiary services.
Essential Functions and Responsibilities of the Job
Responsible for the strategic planning and management of MCMF's contract negotiations, documentation and relationship management.  Advises and provides guidance to other emerging Memorial markets on contracting standards, which may include contract template review and input to senior management on recommended strategies, as well as involvement in specific negotiations and documentation. 

Collaborates with other departments to develop assessment and communication tools to monitor performance of the agreements and other information critical to the organization and oversee the review, negotiation, implementation and maintenance of capitation and fee for service contracts and related materials consistent with organization's strategic goals, business and marketing plans.

Directs the contracting staff.  Manage the day-to-day productivity of the department and provide leadership to the staff.

Oversees or provides direction on analysis of performance of provider contracts and collaborates with executive management on opportunities for lowering the cost of providing medical services using contractual relationships.

Keeps informed on new provider compensation strategies or methodologies such as capitation, bundled payments, and pay for performance opportunities or other means of compensation incentives to engage providers with MemorialCare strategies.

Collaborate with management and staff from other departments to develop processes, resolve issues and further the business goals of the company.

Collaborates with IT on contract maintenance issues ensuring fee schedules are updated in conformance with contract requirements including consulting with MC IT Tapestry experts on implementation of new contractual terms.

Advise senior management on provider network strategies (develops, executes and maintains) to meet the needs and goals of physician groups and Hospitals.

Lead or oversee the negotiation and renegotiation of provider contracts and letters of agreement.

Ensure data integrity in the EPIC managed care system in regards to provider pricing and provider demographics.

Oversee provider inquires as it relates to contract/claims issues and works with providers and office staff to ensure claims are paid according to contractual terms.

Works in concert with medical management and marketing to develop strategies to meet market growth and medical cost targets. 

Works with Provider Relations in onboarding network physicians/providers and supports department in addressing contract questions.
Pay Range: 136k- 204k
Placement in the pay range is based on multiple factors including, but not limited to, relevant years of experience and qualifications. In addition to base pay, there may be additional compensation available for this role, including but not limited to, shift differentials, extra shift incentives, and bonus opportunities. Health and wellness is our passion at MemorialCare—that includes taking good care of employees and their dependents. We offer high quality health insurance plan options, so you can select the best choice for your family. And there's more...Check out our MemorialCare Benefits for more information about our Benefits and Rewards.
Essential Job Outcomes
Provide direction on contract negotiations, rate modeling and daily contract administration including working with IT on updates.

Annual Network Development Plans – including provider recruitment goals and specialty alignment and/or adequacy.

Collaboration with Departments of MCMF or MHS System on network activities.

Provides Leadership and direction to the department through regular meetings, coaching, and demonstrates use of lean management principles and exemplifies customer service principles of Simply Better.

Keeps informed of managed care principles, ACOs and provider compensation in our market thereby keeping team creative and thinking outside of the box.

Other duties as assigned
Experience
Minimum of 7 years experience in a healthcare management role (s).
Education
Bachelor degree in Business Administration, Health Care Administration or related field. Masters degree preferred.
Jobs For You
You have not recently viewed any jobs.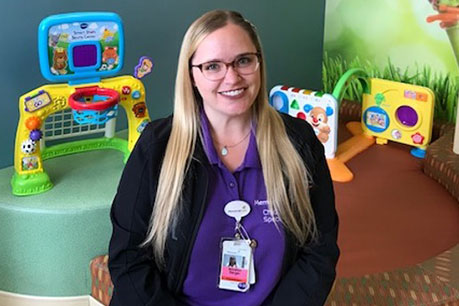 "I love working at Miller Children's & Women's Hospital Long Beach because I value working for a company that invests in its employees and the community we serve. From the support and guidance I receive from managers who value my professional and personal growth; to being able to work alongside colleagues who are dedicated to help their patients and families. I feel inspired every day to do the work that I love alongside people who share a similar vision."