Location: Fountain Valley, California
Schedule: Full-time
Shift: Full-time
Job Listing: MEM004734
MemorialCare's IS trainers are responsible for developing the knowledge and skills of our workforce.  They facilitate the organization's training strategy and plan initiatives. They ensure that our workforce can meet its current and future business objectives and deliver quality services that meet our customers' needs.  They develop and facilitate training strategies and plan initiatives working with clinical, patient access, financial system, or Analytics/Business Intelligence groups.
The IS Training Specialist provides the technical training expertise on the team to assist with troubleshooting system issues towards resolution. They are responsible for advising and developing course curriculum as well as providing direction for the creation and storage of supporting training materials. They work closely with the other Trainers, Project Leaders team members, and technical counterparts to ensure training build and supporting materials are always readily accessible, increase utilization of NextGen EHR system and other applications by end-users to enhance their workflows within the clinical, patient access, and financial systems.  The IS Trainer works closely with leaders, subject matter experts, and team members on all aspects of the EMR program to assure project deadlines are met and that all training reflects operational workflows, policies, and procedures. As functional experts, they spearhead training testing validation sessions for potential application build modifications, upgrades, or additional implementation of new technology.
Essential Functions and Responsibilities of the Job
Deliver training programs to clients either in a group classroom setting, online, or on a one-to-one basis.

Develop instructor-led training and web-based training curriculum. 

Assist with the development and maintenance of education tools including reference tools, practice exercises, and assessments utilizing a variety of formats. 

Develops competence in the proper operation and optimal use of NextGen and other applications. Able to use prior experiences to consult and advise end-users, management, physicians, and others concerning the purpose, features, functions, and uses of applications. 

Participate in assigned workgroups to provide workflow observations and recommendations.

Determine approaches and appropriate training methodologies for new functionalities/workflows based on predetermined learning needs and objectives.

Support others in the team, assisting with technical issues and questions. 

Participates in the analysis of the potential application modifications, upgrades, replacements, or additions that result from changing business conditions or availability of new technology.  Conduction application testing and completion of test plans. 

Assists in the personalization of systems

Maintain expertise and competence in the assigned software applications.

Maintain appropriate instructor manuals, training materials, and job aids.  Updates the Nautilusemr.com website and newsletter. 

Develop and implement Train the Trainer programs
One to two years of patient care or patient access and financial experience.

Experience in instructional education, training, and /or customer service.

Experience working in a hospital setting and physician's private practice or medical group.

Demonstrated ability strong organizational, presentational, and listening/verbal skills.

Previous experience with EMR implementation, software adoption, and training experience.

General working knowledge / experience with Electronic Health Records software (NexGen, EPIC, Allscripts, ECW) preferred.

Demonstrated solid analytical and critical thinking skills.

Ability to identify issues, prioritize and problem solve through resolution.

Past success working independently as well as in a team situation while meeting aggressive deadlines.

Demonstrated proficiency in Microsoft Office Products required (Word, PowerPoint, Excel, Microsoft tools).
Education
Professional health care license for clinical trainers is preferred.

Bachelor's degree or equivalent o

perational experience in a health care or information technology related area preferred.
Jobs For You
You have not recently viewed any jobs.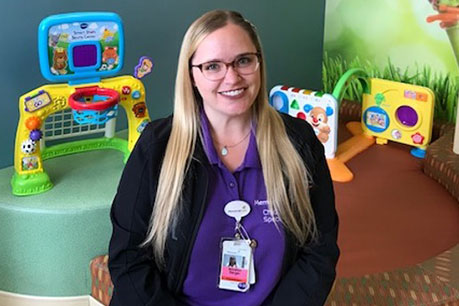 "I love working at Miller Children's & Women's Hospital Long Beach because I value working for a company that invests in its employees and the community we serve. From the support and guidance I receive from managers who value my professional and personal growth; to being able to work alongside colleagues who are dedicated to help their patients and families. I feel inspired every day to do the work that I love alongside people who share a similar vision."