OP Ancillary/Physician Coder, Remote (Must be based in CA)
Location: Fountain Valley, California
Schedule: Full-time
Shift: Full-time
Job Listing: MEM006643
Essential Job Outcomes & Functions
Reviews the medical record of all outpatient, ancillary and ancillary recurring hospital encounters to determine the principal diagnosis and procedure and all appropriate secondary diagnoses and procedures

Using the International Classification of Diseases (ICD-9/10) and the Current Procedural Terminology (CPT) coding classification systems, assigns codes to all diagnoses and procedures following applicable coding principals and department guidelines; enters into the Epic Hospital Billing system for transmittal to billing system

Abstracts and codes all required clinical and demographic data for OSHPD (Office of Statewide Health Planning and Development), Quality Management, and Medical Staff; enters information into the Epic Hospital Billing system

Assigns ICD-9/ I-10 codes to the chief complaint of outpatient diagnosis accounts; enters into the Epic Hospital Billing system. Enters CPT codes, as appropriate

Reviews accounts for coding edits and corrects those edits

Maintains current knowledge of the most recent ICD-10-CM Official Guidelines for Coding and Reporting, the annual changes to the ICD-10 diagnosis and procedure codes, and the annual changes to the CPT procedure codes. Recognizing that we are in a period of change, the same would be expected for ICD-10 diagnosis and procedure coding, once implemented

Ensures that the coding units Weekly Accounts Receivable (WAR) goals are met, by meeting the productivity standards established for this position

Performs other duties as assigned
Job Specific Competencies
Meets standards for correct diagnoses and procedure identification and code assignment 97% of the time.

Meets standards for OSHPD required data

Meets WAR report / HB Dashboard productivity goals 97% of the time

Is organized and has the ability to manage multiple tasks at one time.  Organizes work to achieve department goals; determines the necessary sequence of activities needed to achieve goals.

Generates creative approaches to addressing problems and opportunities; makes sound decisions after reviewing all relevant information

The ability to focus on the desired results, make decisions in a timely manner.

Demonstrates the ability to use technology effectively and productively, continually updates skills and knowledge; addresses problems as they arise or seeks help as appropriate.

The ability to efficiently and accurately identify and locate relevant sources of information followed by a capacity to synthesize and analyze data of various complexity and importance.

The ability to understand a situation or problem by identifying patterns or connections between ideas or situations that are not obvious or related.

Follows detailed procedures and ensures accuracy in documentation and data
Pay Range: $26.21-$38.00
Placement in the pay range is based on multiple factors including, but not limited to, relevant years of experience and qualifications. In addition to base pay, there may be additional compensation available for this role, including but not limited to, shift differentials, extra shift incentives, and bonus opportunities. Health and wellness is our passion at MemorialCare—that includes taking good care of employees and their dependents. We offer high quality health insurance plan options, so you can select the best choice for your family. And there's more...Check out our MemorialCare Benefits for more information about our Benefits and Rewards.
Education / Licensure / Certification
CCS/CPC-H/RHIT/RHIA required or equivalent in work experience
Experience
1+ year ICD-9/CPT coding experience in an acute care hospital OR successful completion of an accredited coding program

Successful completion of ICD-10 CM (and PCS preferred) training.
Jobs For You
You have not recently viewed any jobs.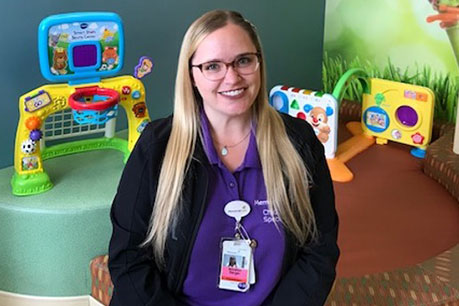 "I love working at Miller Children's & Women's Hospital Long Beach because I value working for a company that invests in its employees and the community we serve. From the support and guidance I receive from managers who value my professional and personal growth; to being able to work alongside colleagues who are dedicated to help their patients and families. I feel inspired every day to do the work that I love alongside people who share a similar vision."