Location: Fountain Valley, California
Schedule: Full-time
Shift: Full-time
Job Listing: MEM005280
Members of MemorialCare's Healthcare Informatics job family use interdisciplinary knowledge, integrating computer, information, clinical, and decision sciences, toward the design, development, adoption, and application of IT-based innovations in healthcare services. Through computer technology, Informatics team members effectively manage data, information, and knowledge, including data storage, retrieval, transformation, and process improvement, to optimize use for problem solving and decision making. They assess current data and information practices, structure, and technology, determine the information-based needs of health care providers and patients, develop solutions using technology, and evaluate the impact of those interventions. The Informatics team uses evidence-based clinical knowledge to help ensure support of clinical objectives and best practice.
The Regulatory Specialist work side by side our end users, and other application team members, to install, enhance, and utilize the Epic software, help lead and manage workflow/software, and data flow changes, with a primary focus to integrate performance improvement and regulatory requirements. They integrate and maintain accuracy in data flow and information and ultimately transform the way that MemorialCare provides healthcare.
The Regulatory Specialist will drive collaboration across MemorialCare to ensure that Epic and its integrations are designed for interoperability, per defined policies, as well as industry best practices.  The Regulatory Specialist positively influences change for end users that maximizes the value of the system. The Regulatory Specialist is responsible for developing and implementing an enterprise data strategy that aligns information assets with business and technology strategy, and to Performance Improvement (PI)/Regulatory requirements.  It is essential for this individual to be highly collaborative as they need to influence senior business leaders, functional leadership, project and application managers, clinicians, as well as service line resources.
Essential Functions and Responsibilities of the Job
Support the security and data integrity of clinical data

Act as technical and subject-matter-expert for applications and PI Regulatory requirements

Identify and resolve complex problems and issues associated with enterprise wide applications

Stay abreast of current and emerging data technologies and trends, as well as regulatory specifications and directives

Identify problem situations and considers all perspectives in terms of scope and consequences.

Maximize the maintainability of Epic through in-depth system knowledge

Incorporate knowledge of health information management and exchange (HIM/HIE) standards to define process and technology requirements.

Ensure that proposed and existing systems architectures are aligned with regulatory and organizational goals and objectives

Educate and train key members of the PI/Regulatory or application teams and users

Collaborate with business intelligence and analytics teams in developing reports, monitoring, and analyzing performance related to various quality reporting programs
Experience
Minimum of 5 years of Epic application experience or an equivalent combination of Epic certification and relevant experience required

Minimum 2 years' experience with federal regulatory requirements

Demonstrated understanding of the Centers for Medicare and Medicaid Services (CMS), Office of the National Coordinator for Health Information Technology (ONC), and the Quality Payment Program (QPP) requirements through submission and acceptance, within first year

Experienced with data collection and/or submission for PI/Regulatory programs, preferred

Demonstrated expert level knowledge of clinical data exchange models and appropriate mechanisms for data capture within federal, state, or local regulations

Experienced in HIM/HIE, and contemporary use of automation to improve business performance

Established project management experience, leading projects requiring an end-to-end workflow perspective, working well independently as well as in a team situation meeting aggressive deadlines

Demonstrated use of relevant "out-of-the-box thinking" in conjunction with organization wide standardization

Demonstrated high energy levels and tolerance of time pressures, and experience working in a fast-paced environment with minimal supervision and managing multiple priorities

Demonstrated use of effective communication, with advanced levels of attention to detail, using interpersonal relations to achieve established goals

History of incorporating LEAN methodology into daily practice

Demonstrated proficiency in regulatory reporting: Quality Measures for Eligible Clinicians or Eligible Hospitals within first year

Demonstrated history of successful Epic configurations and hands- on modification projects in EpicCare Ambulatory or EpicCare Inpatient (ClinDoc/Orders).

Experienced in leading projects, providing expert consultative guidance and direction on change initiatives. Has held previous role requiring participating in team projects with outwardly exhibited interpersonal cooperation.

Proven ability in workflow and data analysis and design techniques, including needs assessment, specification development, quantitative methods, planning and gap analysis.

Past success leading meetings between business stakeholders, technical resources, and third parties for business requirements and technical solutions.

Experienced working with a diverse, multi-disciplinary team, and interacting with all levels of the organization.

Demonstrated ability to understand and incorporate performance improvement or regulatory requirements into application within determined timeframes

Demonstrated proficiency with information systems technology including the Microsoft Office Products required

Demonstrated ability to effectively utilize system tools to meet functionality needs of users including the ability to create end-user reports

Experienced planning and organizing day-to-day activities, effectively managing more than one task, and meeting established deadlines
Education
Bachelor's degree or equivalent combination of education and relevant experience required

Cross certification or proficiency in relevant Epic modules required
Jobs For You
You have not recently viewed any jobs.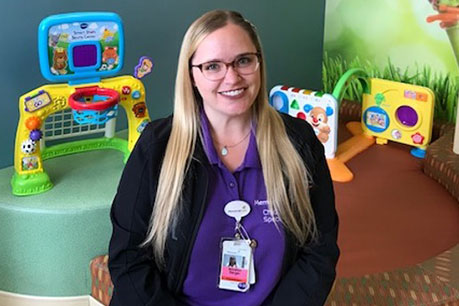 "I love working at Miller Children's & Women's Hospital Long Beach because I value working for a company that invests in its employees and the community we serve. From the support and guidance I receive from managers who value my professional and personal growth; to being able to work alongside colleagues who are dedicated to help their patients and families. I feel inspired every day to do the work that I love alongside people who share a similar vision."