RN, Clinical Nurse Educator, In-service Education, Variable (8hrs)
Location: Fountain Valley, California
Schedule: Part-time
Shift: Part-time
Job Listing: ORA003468
Purpose Statement / Position Summary: 
This position requires the full understanding and active participation in fulfilling the mission of Orange Coast Memorial Medical Center. It is expected that the employee demonstrate behavior consistent with our core values: Accountability, Best Practices, Compassion and Synergy. The employee shall support Orange Coast Memorial Medical Center's strategic plan and participate in and advocate performance improvement/patient safety activities. Through demonstrated advanced clinical knowledge, skills, and competence, the Clinical Nurse Educator facilitates learning experiences for interdisciplinary personnel through direct and indirect methods. The Clinical Nurse Educator coordinates, implements, and evaluates educational programs. Then Clinical Nurse Educator acts as an education advisor and consultant to the staff, mangers and other educators to identify gaps in practice and learning needs of staff. The Clinical Nurse Educator functions as a clinical and a professional role model for staff; demonstrating accountability, performance and responsibility in clinical practice. The Clinical Nurse Educator supports the integration and translation of research into practice as well as participates in performance improvement, evidence-based practice or research activities. The Clinical Nurse Educator provides clinical leadership and serves as a resource person to facilitate problem solving and decision making skills of staff. The Clinical Nurse Educator serves as a consultant for various committees and projects as it relates to improved patient outcomes. The Clinical Nurse Educator functions as a change agent to improve patient care and supports interdisciplinary collaboration. The Clinical Nurse Educator integrates the Code of Ethics into all areas of practice and advocates for patients and staff at all levels.This Clinical Nurse Educator position supports the ongoing efucational needs of the Telemetry Unit. 
Essential Functions and Responsibilities of the Job
Demonstrates ability to apply expert knowledge to facilitate change as a result of variations in market or service line, research findings or regulatory modifications
Identifies, proposes and implements evidence-based practices and products/equipment to impact quality patient outcomes
Demonstrates the ability to utilize effective critical thinking skills when creating competency validations/curriculum
Ability to apply evidence-based practice to curriculum and translate evidence-based practice findings into nursing practice to enhance patient outcomes
Ability to coordinate and teach content in area of specialty as a means to advance nursing knowledge and increase community awareness as needed
Serves as an expert in clinical practice, demonstrating advanced clinical decision-making skills; and functions as a positive role model and consultant
Ability to coach and mentor staff and other members of the healthcare team
Supports Interprofessional collaboration when creating or educating staff
Demonstrates ability to inform and educate staff regarding performance improvement strategies and models to achieve quality patient outcomes
Participates in and assists the staff in developing relevant research or evidence-based projects
Participates in professional organizations and ensures national guidelines, standards, policy statements are incorporated into curricula, policies and unit/system workflows
Ability to be at work and be on time
Ability to follow company policies, procedures and directives
Ability to interact in a positive and constructive manner
Ability to prioritize and multitask
Essential Job Outcomes/ Specific job related responsibilities and duties.
Educator Role: Assesses for practice gaps as well as identification of learning needs. Develops, supports and evaluates learning for the unit, hospital and organization.
Facilitator Role: Develops strategies to facilitate positive learning and practice environments. Facilitates theoretical and clinical reasoning among diverse learners with different learning styles and unique learning needs.
Leader Role: Provides leadership and advocacy in the professional practice setting and profession, to create, maintain and support desired educational opportunities contributing to the future of nursing.
Consultant/Mentor/Coach Role: Through effective communication with others, promotes teamwork, influences plans and effects change. Utilizes mentoring/coaching to develop critical thinking and/or hands-on skills of staff.
Change Agent: Advocates for the growth and adoption of innovative ideas; indirectly or directly influences change with the unit, hospital or organization.
Researcher: Provides for thorough and systematic inquiry; includes the search for, interpretation and use of evidence in clinical practice; participates in performance improvement and evidence based practice projects; participates in or conducts original research.
Ethical Decision-Making: Integrates ethics in all activities and areas of practice; identifies, articulates and initiates action on ethical concerns at the patient, unit, hospital, system and public policy levels.
Other duties as assigned
Experience/Education:
Minimum five (5) years recent direct clinical experience in area of specialization
Teaching experience preferred; including knowledge of adult education learning theories and curriculum design
Excellent interpersonal, written and verbal communication skills
Windows computer skills including proficient use of Microsoft Word Education
Current California RN license
Bachelor Degree in Nursing required; Master's degree in Nursing preferred
Certification in Nursing Professional Development preferred
Certification in area of clinical specialty preferred (e.g. PCCN, CCRN)
Current AHA BLS for Healthcare Providers certification; AHA BLS Instructor certification preferred; may obtain instructor certification within six (6) months of hire
AHA ACLS/PALS or NRP provider or Instructor certification required based on clinical area or responsibility
California Teaching Credential preferred
Jobs For You
You have not recently viewed any jobs.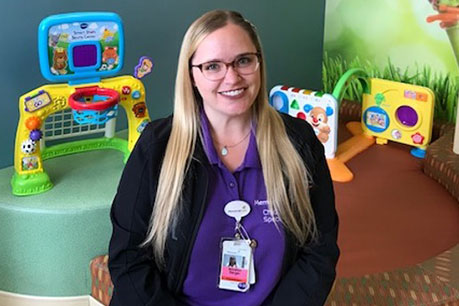 "I love working at Miller Children's & Women's Hospital Long Beach because I value working for a company that invests in its employees and the community we serve. From the support and guidance I receive from managers who value my professional and personal growth; to being able to work alongside colleagues who are dedicated to help their patients and families. I feel inspired every day to do the work that I love alongside people who share a similar vision."