TEMPORARY Clerk, Sr, Risk Management - PD/Days (8hr) - Fountain Valley
Location: Fountain Valley, California
Schedule: Per Diem
Shift: Per Diem
Job Listing: MEM006923
**Thiis is a temporary per-diem position working Mon-Friday 8 AM - 4:30 PM. 
Purpose Statement / Position Summary
Under minimal supervision, performs clerical duties, which are well defined and of moderate scope and complexity.  Duties may include such tasks as receiving and/or conveying information, preparation of summaries, sorting and matching documents, filing records, collecting, sorting and distributing mail, data entry, routine inventory and supply organization.
Provide Clerical Support to Risk Management Claims Director including correspondence with outside parties and internal staff.  Support organization of claims correspondence and files.  Filling of completed documents. 
Essential Functions and Responsibilities of the Job
Ability to use correct grammar in written and verbal communication.

Ability to perform clerical duties, in a professional manner, to assist in the functioning of the department.

Ability to complete all tasks in an accurate and timely manner.

Ability to use computer skills with knowledge of Microsoft Office software and understands the proper use of office equipment.

Ability to work independently with minimal supervision.

Able to be at work and on time, follow organization rules and procedures and directions from a Coordinator/Lead or other member of the Management staff.

Able to adhere to all confidentiality policies and procedures and carries out all tasks in a pleasant and respectful manner.

Ability to make suggestions for enhancements throughout the department and continually seeks opportunities to improve current policies, procedures and practices.

Able to recognize and perform essential duties and offers assistance to others or performs other required tasks when own assignments are completed.  Performs other duties as assigned by management.

Ability to use critical thinking while reviewing billing and collection notes in the financial computer system to ensure that the appropriate action is taken within the billing and collection process and to ensure correct hospital reimbursement.

Be at work and be on time

 Follow company policies, procedures and directives

 Interact in a positive and constructive manner

 Prioritize and multitask
Pay Range: $20/hr - $23/hr
Placement in the pay range is based on multiple factors including, but not limited to, relevant years of experience and qualifications. In addition to base pay, there may be additional compensation available for this role, including but not limited to, shift differentials, extra shift incentives, and bonus opportunities. Health and wellness is our passion at MemorialCare—that includes taking good care of employees and their dependents. We offer high quality health insurance plan options, so you can select the best choice for your family. And there's more...Check out our MemorialCare Benefits for more information about our Benefits and Rewards.
Experience
Skill in use of computers with MS Office experience

Excellent interpersonal skills

Written and verbal communication skills to meet productivity standards

Positive work ethic

Bi-lingual, preferred

High School diploma, or GED equivalent, preferred
Jobs For You
You have not recently viewed any jobs.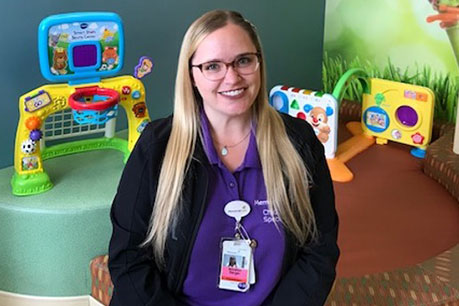 "I love working at Miller Children's & Women's Hospital Long Beach because I value working for a company that invests in its employees and the community we serve. From the support and guidance I receive from managers who value my professional and personal growth; to being able to work alongside colleagues who are dedicated to help their patients and families. I feel inspired every day to do the work that I love alongside people who share a similar vision."