Utilization Review Nurse, Outpatient Utilization Mgmt - FT/Days (8:00AM-5:00PM)
Fountain Valley, California
Join a team of caring, compassionate Nurses at MemorialCare whose dedication has earned them the highly coveted Magnet® recognition for excellence in nursing and patient care across all of our facilities. The Registered Nurse provides a high level of professionalism, compassion and commitment to our patients by providing safe, efficient patient care through the health experience. MemorialCare Nurses exude the highest standards for nursing excellence, quality patient care, professional innovation and inter-professional collaboration.
Full-Time, Part-Time, Per-Diem
Southern California
Level: Mid, Senior
Success Profile
What makes a successful RN at MemorialCare? Check out the traits below to see if you have the right mix.
Collaborative
Communicator
Compassionate
Flexible
Multi-tasker
Team player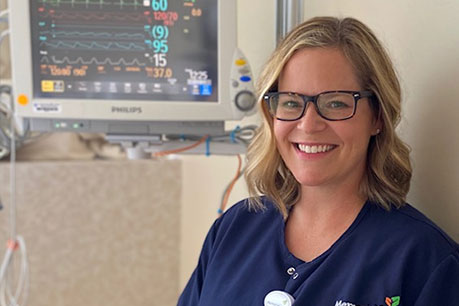 "I've worked at Long Beach Medical Center for almost 20 years, the majority of which has been spent as a bedside RN. With the support of the organization I was able to attain my Bachelor's and then Master's Degree by participating in the Tuition Reimbursement program. I've always felt one of the best things about Nursing is that I learn something new almost every day. I recently became a Clinical Educator and am finding it incredibly rewarding to not only facilitate education for others, but to continue building my own knowledge base with each new opportunity. These hallways have seen me say goodbye to loved ones, hold my baby for the first time, make life-long friends, and advance my career. My heart is where my home is, and my home is here!"
Mission
Mission
To improve the health and well being of individuals, families and our communities.
Vision
Exceptional People.
Extraordinary Care.
Every Time.

Benefits
Healthcare

Medical, Dental and Vision plans (HMO & PPO) & Flexible Spending Accounts (FSA)

Health and Wellness Programs

MemorialCare is committed to providing an environment and culture that empowers its employees to maintain or improve well-being through our nationally recognized "Good Life" program.

Employer Matching 401(K)

MemorialCare is committed to your financial success and provides the 401(k) Plan to help you save for retirement.

Professional Development

MemorialCare encourages and supports the professional growth of its employees by providing financial assistance to further their education.

Paid Time Off

A fully integrated PTO plan which includes; vacation, sick leave, holidays & personal days.

Life and Disability Insurance

Basic Life/AD&D is an employer paid benefit that is offered to Full-Time employees.
Responsibilities
Location:
Schedule: Full-time
Shift: Regular
Job Listing:MEM004555
Purpose Statement / Position Summary
Under minimal supervision and using clinical experience, evidence based knowledge and in collaboration with our physicians, to process clinically appropriate care management referrals.
Essential Functions and Responsibilities of the Job
Along with physician hospitalists / PCPs / Specialists, leads and coordinates activities of interdisciplinary treatment team required to make complex clinical, benefit and network decisions.
Analyze data to identify under/over utilization; improve resource consumption; promote potential reduction in cost; and enhance quality of care consistent with MemorialCare Medical Foundation strategic goals and objectives.
Apply Utilization Review Management process to ensure continuity of care throughout the health care continuum including review and authorization of services applying evidence-based guidelines and per MemorialCare Medical Foundation policy.
Assures review turnaround times adhere to timeliness standards set by contracting and regulatory requirements and established productivity and quality guidelines.
Decisions and documentation demonstrates prudent utilization of resources, identifies for potential cost reduction; promote quality care and comply with regulatory guidelines needed to maintain delegated status from contracted health plans.
Assists with developing corrective action plans, create policies and design workflows that operationalize improvements identified through data and leadership analysis.
Documents decisions that demonstrate independent judgment, critical thinking and application of complex managed care regulations including but not limited to benefit structures, health plan coverage, medical necessity, network contract, financial responsibility and care management.
Implement and maintain systems and processes that meet various regulatory requirements.
Interprets and applies delegation agreements, divisions of financial responsibility, contracted provider lists, evidence of coverage, health plan operations manuals, and MemorialCare Foundation policy.
Independently research and determine the information necessary to satisfy specific business and regulatory medical management requirements. Initiate and complete the denial process for all services deemed to be non-covered benefits or not medically necessary.
May be called upon to participate in regulatory compliance audit requirements and activities/committees including but not limited to Utilization Management, Quality Improvement and Performance Improvement.
Maintain and demonstrate a complete understanding of own scope of practice of licensure and education level.
Monitors utilization and provides recommendations for improvement against established industry standards and performance measurement metrics.
Works with Managers to oversee approval, denial and appeal process, including implementation of appropriate denial letter language to meet regulatory standards.
Participates in Contracting and Provider Relations activities as necessary to develop and maintain provider networks.
Subject to standard medical management performance measurements for specific area/team including but not limited to referral turnaround times, volume, denial language and overturn rates.
May be required to travel during shift for meetings and staff oversite.
May be required to work remote to meet business needs for regulatory compliance.
Essential Job Outcomes
Collect case specific and health plan specific criteria when reviewing the medical necessity and benefit coverage of prospective, concurrent and retrospective review requests
 Reviews each request to determine if the services are being requested for delivery in the most appropriate setting, within the criteria guidelines of the health plan, within the contractual requirements, and being  provided in the most cost efficient methods for care delivery with the goal of achieving the best outcome for the member
Immediately communicates to the Medical Director; barriers, requests not meeting criteria or guidelines, questions of medical appropriateness or medical necessity, or any other issues or concerns.
Adheres to all Medical Management Policies and Procedures and Follows all HIPAA standards and reporting requirements.
Assists all members of the Medical Management Department and Assists Member Services Department in the communication of benefit coverage, limitations and review determinations.
Experience
Required:
M

i

n

i

m

u

m

2

y

e

ars

o

f

u

tili

z

a

tio

n

/ care

ma

n

ag

e

m

e

n

t

e

x

pe

r

ie

n

ce

a

ppl

y

i

n

g

e

v

i

d

e

n

c

e

-

b

ased

cr

i

t

e

r

i

a (

i

.

e

.

:

M

illi

ma

n

,

In

te

rq

u

a

l

);

H

e

a

lt

h

pl

an

m

edi

cal

p

o

li

cy

/

c

li

n

i

cal

c

o

v

e

rage

g

u

id

e

li

n

e

s.
Preferred:
Ex

pe

r

ie

n

ce

p

e

r

f

o

rm

i

n

g

m

e

di

cal

ma

n

ag

e

m

e

n

t

(UM)

i

n

ele

c

t

r

o

n

i

c

r

e

f

e

rral ap

pli

c

a

t

i

o

n

p

r

e

f

e

rr

ed

.
Na

v

ig

a

tio

n

o

f

Sh

are

P

oi

n

t

o

r

eq

u

i

v

a

le

n

t

e

x

pe

r

i

e

n

ce

n

a

v

ig

a

ti

n

g

i

n

te

r

n

al

c

o

m

p

a

n

y

i

n

t

ra

n

e

t

p

r

e

f

e

rr

ed.

2

y

e

ars'

w

o

rk

e

x

pe

r

ie

n

ce

in

M

i

cr

o

s

o

f

t

W

o

rd,

M

i

cr

o

s

o

f

t

Ex

cel

a

n

d

M

i

cr

o

s

o

f

t

O

u

tlo

ok

.
Education
C

a

li

f

o

r

n

i

a

Re

gi

s

te

r

e

d

N

u

rse

(

R

N

)

p

r

e

f

e

rr

ed

or LVN with related UM experience.

B

ac

h

elo

r

o

f

S

c

ie

n

ce

Nu

rs

in

g

o

r

r

el

a

t

e

d

f

iel

d

o

f

s

t

u

d

y

p

r

e

f

e

rr

ed

.
Jobs For You
You have not recently viewed any jobs.