Building Engineer I - FT/Evenings
Location: Laguna Hills, California
Schedule: Full-time
Shift: Full-time
Job Listing: SAD004738
Purpose Statement / Position Summary
Assists in the performance of duties necessary to keep the physical structure and associated hospital equipment in good repair.  Minor electrical work, mechanical repairs, minor plumbing repairs and other duties relating to maintenance are the primary duties.
This position requires the full understanding and active participation in fulfilling the mission of Saddleback Memorial Medical Center. It is expected that the employee demonstrate behavior consistent with the core values. The employee shall support Saddleback Memorial Medical Center's strategic plan and the goals and direction of the performance improvement plan.
Essential Functions and Responsibilities of the Job
1. Demonstrates the ability to safely and competently complete preventive and corrective maintenance repairs
2. Demonstrates the ability to safely and competently perform repairs to equipment, building and grounds according to Medical Center policy and procedure. Including, but not limited to:( see evaluation )
3. Demonstrates the ability to safely and competently use equipment during completion of daily tasks
4. Demonstrates the ability to safely and competently update and maintain security, fire, preventive maintenance and key systems
5.  Be at work and be on time
6.  Follow company policies, procedures and directives
7.  Interact in a positive and constructive manner
8.  Prioritize and multitask
Location: Saddleback Memorial Medical Center
Schedule: Evenings,3pm -11:30pm
Shift: Regular
Job Listing: SAD004738
Pay Range: $22.64/hr - $32.82/hr
Placement in the pay range is based on multiple factors including, but not limited to, relevant years of experience and qualifications. In addition to base pay, there may be additional compensation available for this role, including but not limited to, shift differentials, extra shift incentives, and bonus opportunities. Health and wellness is our passion at MemorialCare—that includes taking good care of employees and their dependents. We offer high quality health insurance plan options, so you can select the best choice for your family. And there's more...Check out our MemorialCare Benefits for more information about our Benefits and Rewards.
Experience
High school diploma or general education degree (GED); and twelve months related experience and/or training on a Health Care Facility.
Must possess a valid California driver's license and vehicle insurance (California minimum)
Education
Ability to read and interpret documents such as safety rules, operating and maintenance instructions, and procedure manuals.

Ability to write routine reports and correspondence.

Ability to speak effectively before groups of clients or employees of organization

Ability to add, subtract, multiply, and divide in all units of measure, using whole numbers, common fractions, and decimals.

Ability to apply commonsense understanding to carry out instructions furnished in written, oral, or diagram form. Ability to deal with problems involving several concrete variables in standardized situations.

Bilingual (English/Spanish) preferred (as applicable)
Jobs For You
You have not recently viewed any jobs.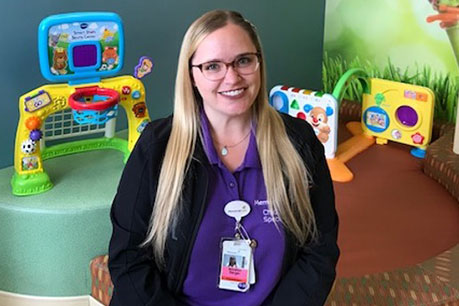 "I love working at Miller Children's & Women's Hospital Long Beach because I value working for a company that invests in its employees and the community we serve. From the support and guidance I receive from managers who value my professional and personal growth; to being able to work alongside colleagues who are dedicated to help their patients and families. I feel inspired every day to do the work that I love alongside people who share a similar vision."