CV Special Procedures Tech
Location: Laguna Hills, California
Schedule: Per Diem
Shift: Per Diem
Job Listing: SAD005322
Title: CV Special Procedures Tech
Location: Laguna Hills, CA
Department: Invasive Cardiology
Status: Per Diem
Shift: Days
Pay Rate*: $58.00/hr
At MemorialCare Health System, we believe in providing extraordinary healthcare to our communities and an exceptional working environment for our employees. Memorial Care stands for excellence in Healthcare. Across our family of medical centers, we support each one of our bright, talented employees in reaching the highest levels of professional development, contribution, collaboration and accountability. Whatever your role and whatever expertise you bring, we are dedicated to helping you achieve your full potential in an environment of respect, innovation and teamwork.
Position Summary
The Cardiovascular Special Procedures Technologist performs radiographic and fluoroscopic procedures to a patent population of adults through geriatric. Additionally, in order to support Saddleback Medical Center as a STEMI, Stroke and Thrombectomy Capable Receiving Center this position requires competencies in the following specialty areas: Invasive Cardiology, Interventional Radiology, Peripheral Vascular, Neurovascular Interventions and TAVR procedures. The Cardiovascular Special Procedures Technologist will assist the physician by scrubbing and monitoring physiologic hemodynamic data, as related to the procedures. The Cardiovascular Special Procedures Technologist will assist in patient care and preparation of the lab by performing routine and delegated technical and clerical duties. This position requires stand by call for STEMI and Neurovascular Interventions and other emergent Interventional Radiology procedures.
Essential Functions and Responsibilities of the Job
 A

bility to consistently apply infection control policies and procedures

Meets population specific competencies

Demonstrates ability to competently perform special procedures/radiology technologists' responsibilities according to department protocols.

Attends department specific education/training and in-services

Provides input to improve department operations, equipment and supply needs. 6. Demonstrates a positive influence and recognize the efforts of others

Demonstrates ability to competently perform diagnostic/therapeutic procedures for cardiovascular, neurovascular and interventional radiology.

Demonstrates the ability to competently perform hemodynamic monitoring

Demonstrates the ability to utilize effective critical thinking skills.

Contributes to an effective and safe working environment.

Ability to serve as a role model and to mentor new staff members.

Demonstrates knowledge and understanding of patient privacy rights. Maintains confidentiality of all medical, financial and other sensitive material in printed, electronic or verbal form, which may jeopardize the privacy of patients and or employees.

Demonstrates the ability to use good customer service skills by managing and acknowledging patient-family-significant other expectations.

Demonstrates tact, sensitivity and discretion.

Demonstrates the ability to integrate knowledge of job specific competencies.

Ability to be at work and be on time

Ability to follow company policies, procedures and directives

Ability to interact in a positive and constructive manner

Ability to follow company policies, procedures, and directives.
*Placement in the pay range is based on multiple factors including, but not limited to, relevant years of experience and qualifications. In addition to base pay, there may be additional compensation available for this role, including but not limited to, shift differentials, extra shift incentives, and bonus opportunities. Health and wellness is our passion at MemorialCare—that includes taking good care of employees and their dependents. We offer high quality health insurance plan options, so you can select the best choice for your family. And there's more...Check out our MemorialCare Benefits for more information about our Benefits and Rewards.
Qualifications/Work Experience:
One year Special Procedures, Cath Lab, Vascular Lab and/or EP Lab experience preferred. In lieu of this experience, consideration will be made for an employee with strong education and associated experiential background with minimal of one year experience in a Radiologic setting.

Completion of Dysrhythmia or EKG class required within first year.

Hemodynamic monitoring preferred.

Computer, internet, order entry and word processing experience preferred.
Education/Licensure/Certification:
Current CRT licensure required.

Current California Fluoroscopy permit required.

Current BCLS-C required.

ACLS required within first year.

ARRT certification preferred.

RCIS preferred.
Jobs For You
You have not recently viewed any jobs.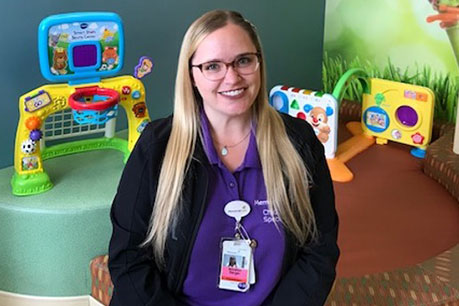 "I love working at Miller Children's & Women's Hospital Long Beach because I value working for a company that invests in its employees and the community we serve. From the support and guidance I receive from managers who value my professional and personal growth; to being able to work alongside colleagues who are dedicated to help their patients and families. I feel inspired every day to do the work that I love alongside people who share a similar vision."