Join a team of caring, compassionate Nurses at MemorialCare whose dedication has earned them the highly coveted Magnet® recognition for excellence in nursing and patient care across all of our facilities. The Registered Nurse provides a high level of professionalism, compassion and commitment to our patients by providing safe, efficient patient care through the health experience. MemorialCare Nurses exude the highest standards for nursing excellence, quality patient care, professional innovation and inter-professional collaboration.
Full-Time, Part-Time, Per-Diem
Southern California
Level: Mid, Senior
Success Profile
What makes a successful RN at MemorialCare? Check out the traits below to see if you have the right mix.
Collaborative
Communicator
Compassionate
Flexible
Multi-tasker
Team player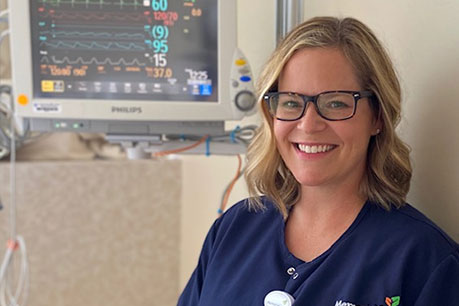 "I've worked at Long Beach Medical Center for almost 20 years, the majority of which has been spent as a bedside RN. With the support of the organization I was able to attain my Bachelor's and then Master's Degree by participating in the Tuition Reimbursement program. I've always felt one of the best things about Nursing is that I learn something new almost every day. I recently became a Clinical Educator and am finding it incredibly rewarding to not only facilitate education for others, but to continue building my own knowledge base with each new opportunity. These hallways have seen me say goodbye to loved ones, hold my baby for the first time, make life-long friends, and advance my career. My heart is where my home is, and my home is here!"
Benefits
Healthcare

Medical, Dental and Vision plans (HMO & PPO) & Flexible Spending Accounts (FSA)

Health and Wellness Programs

MemorialCare is committed to providing an environment and culture that empowers its employees to maintain or improve well-being through our nationally recognized "Good Life" program.

Employer Matching 401(K)

MemorialCare is committed to your financial success and provides the 401(k) Plan to help you save for retirement.

Professional Development

MemorialCare encourages and supports the professional growth of its employees by providing financial assistance to further their education.

Paid Time Off

A fully integrated PTO plan which includes; vacation, sick leave, holidays & personal days.

Life and Disability Insurance

Basic Life/AD&D is an employer paid benefit that is offered to Full-Time employees.
Responsibilities
Location:
Schedule: Per Diem
Shift: Regular
Job Listing:SAD004915
Title: Nurse Practitioner
Location: Laguna Hill, CA
Department: Neuroscience Admin
Status: Per Diem
Shift: Nights (12hr Shifts)
Pay Rate: $90.00/hr
At MemorialCare Health System, we believe in providing extraordinary healthcare to our communities and an exceptional working environment for our employees. Memorial Care stands for excellence in Healthcare. Across our family of medical centers, we support each one of our bright, talented employees in reaching the highest levels of professional development, contribution, collaboration and accountability. Whatever your role and whatever expertise you bring, we are dedicated to helping you achieve your full potential in an environment of respect, innovation and teamwork.
Position Summary
The Nurse Practitioner (NP), Critical Care is responsible for providing clinical leadership and expertise in the delivery of patient care for critically ill patients that receive care in the Intensive Care Unit. Additionally, responsibilities include direct patient care for the critically ill adult patients with multi-system failure. This position is required to operate within institutional guidelines and utilize evidence-based clinical practice standards working under the supervision of the Critical Care Medicine physicians. This position will also assist with the education and development of the Intensive Care Unit staff. The NP, Critical Care will assist in maintaining hospital compliance with regulatory standards, benchmarking programs and performance improvement initiatives. Lastly, this position will assist with the case management of critical care patients to maintain strict adherence to quality and cost controls.
Essential Functions and Responsibilities of the Job
Demonstrates advanced knowledge and skill in diagnosis, management, and evaluation of actual or potential needs of patients and families with critical illnesses.

Maintains knowledge of current research and evidenced-base decision-making in all clinical practice to support the innovation and progressiveness of patient care.

Actively practices inclusion/exclusion criteria for reperfusion therapies for acute ischemic stroke post reperfusion therapies management and cerebral edema management.

Utilizes Intracranial Hemorrhage scoring and Subarachnoid Hemorrhage grading and management of such conditions, including monitoring and management of vasospasm.

Demonstrates knowledge of seizures management and utilizes that knowledge to support positive long-term patient outcomes.

Establishes advance management and skill in diagnosis, management, and evaluation of actual or potential needs of patients and families.

Adheres to Medical Staff Bylaws and Allied Health Professionals Rules and Regulations.

Directs and collaborates with staff members to gain clinical knowledge and skills to support the continuum of patient care.

Serves as a resource person to facilitate clinical problem solving and decision-making skills of clinical staff caring for patients in the Intensive Care Unit.

Actively communicates with the supervising Physician/Intensivist appropriately and in a timely manner to address patient care needs and establish ongoing plan of care.

Role models Magnet principles for Research and Evidence Based Practice in specialty area, in a continuous effort to foster growth and development of all staff members.

Ability to be at work and on time

Ability to follow company policies, procedures and directives.

Ability to interact in a positive and constructive manner.

Ability to prioritize and multitask.
Minimum Requirements
Qualifications/Work Experience:
3 Years' experience as a Registered Nurse in a mixed specialty Intensive Care Unit setting that included cardiac and neurosurgery preferred

2 Years' experienced as Nurse Practitioner with cardiac and neurosurgery preferred

Experience with quality improvement theory, change theory, adult learning principles, and team building

Knowledgeable of current research and strength in translating research into everyday practice
Education/Licensure/Certification:
Possession of a valid California License as a Registered Nurse required

Certification by the State of California, board of Registered Nursing as a Nurse Practitioner required

Certification by a National Organization/Association as an Acute Care Nurse Practitioner or as an Adult Nurse Practitioner preferred

Current certification in American Heart Association Basic Cardiac Life Support (BCLS) required

Current certification in American Heart Association Advanced Life Support (ACLS) Cardiac Life Support required

Current certification from the Neurocritical Care Society in Emergency Neurological Life Support (ENLS) required

Current certification in the Nation Institutes of Health Stroke Scale (NIHSS) required

Cardiac Surgery Advanced Life Support (CALS) completion – You Learn Module within 90days of hire

Furnishing License required

DEA License required

Malpractice Insurance Coverage as required by the Medical Staff Bylaws (provided by MemorialCare).
Jobs For You
You have not recently viewed any jobs.