Patient Access Scheduler - PD/Evenings-Nights
Location: Laguna Hills, California
Schedule: Per Diem
Shift: Per Diem
Job Listing: SAD003612
The Patient Access Scheduler OR/CATL performs centralized scheduling for all invasive procedures. Schedules inpatient and outpatient surgery, Cath and Vascular Lab procedures OU procedures, Labor & Delivery procedures, G.I. Lab procedures, as well as, ancillary procedures in EPIC. Collects and compiles accurate information for hospital records and timely reimbursement. Coordinates procedures accurately to ensure proper equipment, time, personnel and location. Demonstrates technical expertise in all aspects of scheduling. Maintains effective patient flow and completes the Scheduling and Pre-admitting process in a timely manner to assist in prompt treatment of the patient. Assists with the scheduling process by maintaining the surgery and department schedules in collaboration with the health care team, maintaining and achieving fiscal and quality care goals.
Pay Rate: $22.00/hr.
Placement in the pay range is based on multiple factors including, but not limited to, relevant years of experience and qualifications. In addition to base pay, there may be additional compensation available for this role, including but not limited to, shift differentials, extra shift incentives, and bonus opportunities. Health and wellness is our passion at MemorialCare—that includes taking good care of employees and their dependents. We offer high quality health insurance plan options, so you can select the best choice for your family. And there's more...Check out our MemorialCare Benefits for more information about our Benefits and Rewards.
1. Schedule procedures for the O.R., Anesthesia, Cath Lab, Vascular Lab, CVOU, OU, Labor & Delivery, G.I. Lab, and ancillary areas using the appropriate scheduling system.
2. Obtain patient information for hospital admission/registration office.
3. Verify physician suspension and privilege lists.
4. Maintain effective patient flow and complete the scheduling/pre-admitting process.
5. Provide excellent customer service and maintain effective working relations with coworkers, office staff and hospital staff members.
6. Ability to be at work and be on time
7. Ability to follow company policies, procedures and directives
8. Ability to interact in a positive and constructive manner
9. Ability to prioritize and multitask
Jobs For You
You have not recently viewed any jobs.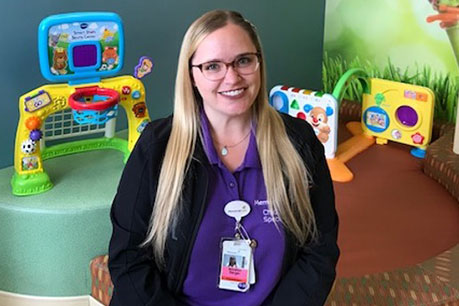 "I love working at Miller Children's & Women's Hospital Long Beach because I value working for a company that invests in its employees and the community we serve. From the support and guidance I receive from managers who value my professional and personal growth; to being able to work alongside colleagues who are dedicated to help their patients and families. I feel inspired every day to do the work that I love alongside people who share a similar vision."