Room Service Host - PD/Variable
Location: Laguna Hills, California
Schedule: Per Diem
Shift: Per Diem
Job Listing: SAD004468
Purpose Statement / Position Summary
This position requires the full understanding and active participation in fulfilling the mission of Saddleback Medical Center. It is expected that the employee demonstrate behavior consistent with our core values: Integrity, Accountability, Best Practices, Compassion and Synergy. The employee shall support Saddleback Medical Center's strategic plan and participate in and advocate performance improvement/patient safety activities.
To provide an exceptional patient meal experience by delivering meals to the patient bedside in a timely manner. Coordinates meal tray production and communicates effectively with Nursing and the Diet Office. Ensures accuracy of the tray to the meal selection providing service recovery when needed. Communicates special patient needs with Clinical Nutrition staff, Diet Office and Nursing. Ensures nourishment are stocked to meet patient needs.
Essential Functions and Responsibilities of the Job
Oversee smooth and accurate tray delivery to all patients at meal times and nourishment distribution, coordinating with Nursing per standard work procedures

Follow appropriate HIPPA procedures including properly identifying patients when delivering meal trays to the patient bedside.

Assemble patient meal trays according to patient diet order and restrictions

Restock nourishment rooms to par levels to meet patient needs

Accurate record keeping for productivity and quality standards

Performs timely and accurate telephone communication

Performs downtime procedures as needed

Ability to be at work and be on time

Ability to follow company policies, procedures and directives

Ability to interact in a positive and constructive manner

Ability to prioritize and multitask
Location: Saddleback Orange Coast Memorial Medical Center
Schedule: PD, Variable
Shift: Regular
Job Listing: SAD004468
Pay Rate: $21/hr
Placement in the pay range is based on multiple factors including, but not limited to, relevant years of experience and qualifications. In addition to base pay, there may be additional compensation available for this role, including but not limited to, shift differentials, extra shift incentives, and bonus opportunities. Health and wellness is our passion at MemorialCare—that includes taking good care of employees and their dependents. We offer high quality health insurance plan options, so you can select the best choice for your family. And there's more...Check out our MemorialCare Benefits for more information about our Benefits and Rewards.
Essential Job Outcomes

Ensure patient meals are distributed in a timely manner to the correct patient consistent with current diet order and accurate to the printed tray ticket

Provides excellent customer service to patient and families, including service recovery

Restock nourishment rooms to par levels to meet patient needs

Ensure trayline area is consistently and properly stocked with items necessary for patient meal service

Provide assistance to food service workers as needed

Communicate effectively with Diet Office, Dietitians, Diet Techs, Food Service Workers, Cooks, and Nursing to coordinate patient meal service

Practice proper infection control procedures according to department policies

"Other duties as assigned"
Experience
Excellent organization and prioritization skills necessary
Ability to effectively communicate verbally and written in English
Recent experience in an acute care hospital food service or experience in a restaurant environment preferred.
Education
High school diploma or GED preferred
Basic knowledge of therapeutic nutrition, medical terminology, and abbreviations preferred.
Computer literacy preferred.
Jobs For You
You have not recently viewed any jobs.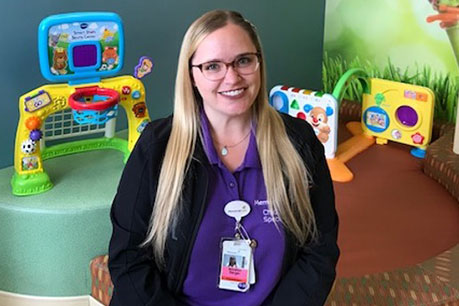 "I love working at Miller Children's & Women's Hospital Long Beach because I value working for a company that invests in its employees and the community we serve. From the support and guidance I receive from managers who value my professional and personal growth; to being able to work alongside colleagues who are dedicated to help their patients and families. I feel inspired every day to do the work that I love alongside people who share a similar vision."