Speech Pathologist - Inpatient Therapy
Location: Laguna Hills, California
Schedule: Per Diem
Shift: Per Diem
Job Listing: SAD004688
Title: Speech Pathologist
Location: Saddleback Memorial Medical Center
Department: Speech, Lang-IP
Status: Per Diem
Shift: Days (8hr) – 2/3 weekend days per month
Pay Rate*: $58.00/hr.
At MemorialCare Health System, we believe in providing extraordinary healthcare to our communities and an exceptional working environment for our employees. Memorial Care stands for excellence in Healthcare. Across our family of medical centers, we support each one of our bright, talented employees in reaching the highest levels of professional development, contribution, collaboration and accountability. Whatever your role and whatever expertise you bring, we are dedicated to helping you achieve your full potential in an environment of respect, innovation and teamwork.
Position Summary
This position is responsible for providing all aspects of speech language pathology services, including but not limited to screening, examination, evaluation, care planning, treatment implementation, reassessment, discharge planning and education to young adult through geriatric patients.
Essential Functions and Responsibilities of the Job
Performs a speech language pathology patient assessment

Analyze clinical findings to determine function status/outcomes after care

Designs a speech language intervention plan

Performs speech language interventions in a competent manner

Educates others using relevant and effect teaching methods

Produces documentation to support the delivery of speech language pathology services

Uses support personnel according to legal and ethical guidelines

Manages resources/incorporates economic factors into service delivery to achieve goals of the practice setting

Addresses the age specific need of all populations served

Be at work and be on time

Follow company policies, procedures and directives

Interact in a positive and constructive manner

Prioritize and Multitask
*Placement in the pay range is based on multiple factors including, but not limited to, relevant years of experience and qualifications. In addition to base pay, there may be additional compensation available for this role, including but not limited to, shift differentials, extra shift incentives, and bonus opportunities. Health and wellness is our passion at MemorialCare—that includes taking good care of employees and their dependents. We offer high quality health insurance plan options, so you can select the best choice for your family. And there's more...Check out our MemorialCare Benefits for more information about our Benefits and Rewards.
Minimum Requirements
Qualifications/Work Experience:
One year of clinical speech language pathology experience required with emphasis on cognition, motor speech, aphasia, voice and swallowing. In lieu of this experience, consideration will be made for staff with strong education and associated experiential background

LSVT certification and experience with MBSS preferred, but not mandatory
Education/Licensure/Certification:
Current California Speech Language Pathologist Licensure
Jobs For You
You have not recently viewed any jobs.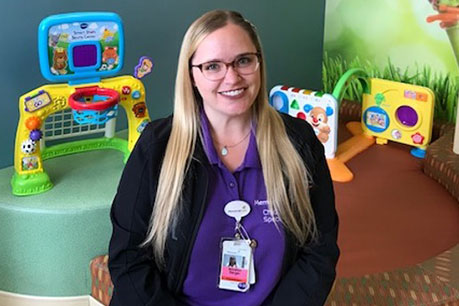 "I love working at Miller Children's & Women's Hospital Long Beach because I value working for a company that invests in its employees and the community we serve. From the support and guidance I receive from managers who value my professional and personal growth; to being able to work alongside colleagues who are dedicated to help their patients and families. I feel inspired every day to do the work that I love alongside people who share a similar vision."