Clerk, Radiology - PD/Variable
Location: Long Beach, California
Schedule: Per Diem
Shift: Per Diem
Job Listing: LON008642
Answers telephones: demonstrate active and focused listening skills Asks appropriate questions when scheduling appointments accurately documentation when scheduling exams, obtaining and completing demographics, Insurance information and authorization. Consistently answer and effectively prioritize your workload to assure that calls are being answered in a timely manner. Must be proactive, follow direction and instructions carefully. Maintains a high output volume on phone calls to ensure no one feels forgotten or lost in the process and having to wait a long period of time on the line to schedule their appointment. Listen objectively, accurately interprets what was said the first time and always demonstrate sincere interest. Screen caller more thoroughly and qualify the purpose of their calls to better assist them.
Performs excellent work quality to fulfill guidelines of department protocol Scheduling appointments, attaining proper documentation, labs, and all required information and paperwork. Ensures a consistent workflow despite interruptions, plans her/his day as productively as possible, successfully schedules facility workload to help meet service goals. Ensures to scan all required documents and cultivate a culture of openness in information sharing.
Maintains a very neat and well-organized working environment display excellent and consistent approach toward organizing her/his work Prepares her assignments (orders) in a orderly and timely fashion avoid scheduling conflicts, be consistent in tracking or following up documents needed to avoid delays on patients scheduled exams, and must pull ahead at least 3 days on future appointments. Assure to complete quick disclosure on all CDs given out in Epic, pick up mail and assure to mail out all request that are faxed in a timely manner. Assure to understand the call schedules and when to call and who to call and complete the required documentation for follow up. Maintain composure when faced with stressful situations.
Organizes and files records faxes accordingly, consistently approaches his/her workload in a proactive fashion. Assists with the organization and Inventory of supplies. Know who to contact for various needs and assures to obtain all required information on appointments to avoid delays, allocates resources wisely and treat people with dignity and respect at all times. Provide timely feedback and follow up to patients that are waiting, show initiative when assisting patients and help answer their questions to the best of you knowledge and direct then to the appropriate areas.
Reviews records, files and other documents to ensures a consistent work flow. Allocates time according to the department peaks to confirm appointments. Successfully & productively schedules facility workload to help meet service goals. Maintains open and ongoing communication with his/her team. Plan, organizes, and completes tasks in an acceptable time frame, manage multiple tasks effectively.
Performs all other duties as assigned.
Pay Rate: $20.00/hr.
Placement in the pay range is based on multiple factors including, but not limited to, relevant years of experience and qualifications. In addition to base pay, there may be additional compensation available for this role, including but not limited to, shift differentials, extra shift incentives, and bonus opportunities. Health and wellness is our passion at MemorialCare—that includes taking good care of employees and their dependents. We offer high quality health insurance plan options, so you can select the best choice for your family. And there's more...Check out our MemorialCare Benefits for more information about our Benefits and Rewards.
Minimum Requirements
2+ years of clerical experience, healthcare experience preferred
Jobs For You
You have not recently viewed any jobs.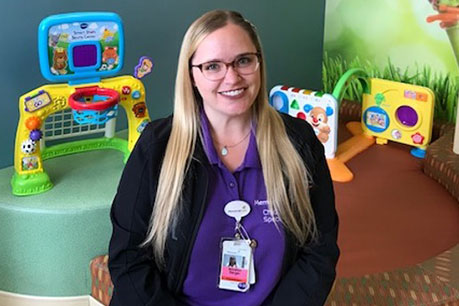 "I love working at Miller Children's & Women's Hospital Long Beach because I value working for a company that invests in its employees and the community we serve. From the support and guidance I receive from managers who value my professional and personal growth; to being able to work alongside colleagues who are dedicated to help their patients and families. I feel inspired every day to do the work that I love alongside people who share a similar vision."