NP or PA Pediatric Cardiac Surgery
Location: Long Beach, California
Schedule: Full-time
Shift: Full-time
Job Listing: PHY000110
Nurse Practitioner or Physician Assistant
Pediatric Cardiac Surgery / Adult Congenital Cardiac Surgery
MemorialCare Medical Group
Miller Children's and Women's Hospital / Long Beach Medical Center
Position Summary
MemorialCare Heart & Vascular Institute is seeking an experienced Physician Assistant or Nurse Practitioner for its Pediatric Cardiothoracic Surgery program at Miller Children's and Women's Hospital  / Long Beach Medical Center in Long Beach, California.
Successful candidates should have (or be eligible for) an unrestricted California medical license. As part of Memorial Care Medical Group, you will be given the tools you need to build the career you want, and the flexibility to adapt as your personal needs and professional interests change.  We invite you to grow with us and help shape the future of this community. Excellent compensation and benefits package provided.
Essential Functions and Responsibilities of the Job

In this full-time role, you'll be working alongside Dr. Shaun Setty, our Medical Director of Pediatric and Adult Congenital Cardiac Surgery. Experience in first or second assisting in pediatric cardiac surgery is required. You will also serve as a patient advocate, acting as liaison between patients and physicians.
Qualifications:
Must have at least 1 year of experience working in a pediatric cardiothoracic surgery program
Must have completed an accredited physician assistant program or a master's degree in nursing; fellowship training in surgery is a plus
Specialty board certification in specialty area
Current California medical license
Current DEA
Current ACLS and PALS certifications
Financial & Benefits
Full and comprehensive benefits for Provider and family
Benefits to include: Medical, dental, vision, life insurance, disability, malpractice insurance and tail coverage
401(k) retirement plan with employer contribution
529 College Savings plan
Generous PTO plan
EMR:  Epic
MemorialCare Medical Group is a physician-based organization with more than 2,000 employed and affiliated providers in Orange and Los Angeles counties. MemorialCare Health System is listed among the top 20 percent of health systems nationwide by Thomson Reuters, one of the top 100 integrated healthcare networks nationwide, and the top 10 in the west region by IMS. MemorialCare Health System is the predominant fully integrated health system in the Southern Los Angeles County and Orange County with over 200 locations.
MemorialCare Miller Children's & Women's Hospital Long Beach is a private, not for profit children's hospital first opened in 1970. It is a 324 bed children's hospital that treats more than 8,000 children each year and has become a regional pediatric destination for more than 84,000 children. It has an active perinatal and maternal fetal medicine service with over 7000 deliveries annually to the adjacent birth center and one of the largest Neonatal Intensive Care units (NICU) in the area with over 90 beds. The hospital serves as the major referral center for the over 500,000 people of Long Beach but reaches an additional 2 million people in the immediate vicinity.
Jobs For You
You have not recently viewed any jobs.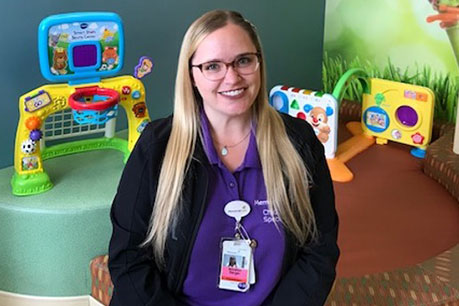 "I love working at Miller Children's & Women's Hospital Long Beach because I value working for a company that invests in its employees and the community we serve. From the support and guidance I receive from managers who value my professional and personal growth; to being able to work alongside colleagues who are dedicated to help their patients and families. I feel inspired every day to do the work that I love alongside people who share a similar vision."