Join a team of caring, compassionate Nurses at MemorialCare whose dedication has earned them the highly coveted Magnet® recognition for excellence in nursing and patient care across all of our facilities. The Registered Nurse provides a high level of professionalism, compassion and commitment to our patients by providing safe, efficient patient care through the health experience. MemorialCare Nurses exude the highest standards for nursing excellence, quality patient care, professional innovation and inter-professional collaboration.
Full-Time, Part-Time, Per-Diem
Southern California
Level: Mid, Senior
Success Profile
What makes a successful RN at MemorialCare? Check out the traits below to see if you have the right mix.
Collaborative
Communicator
Compassionate
Flexible
Multi-tasker
Team player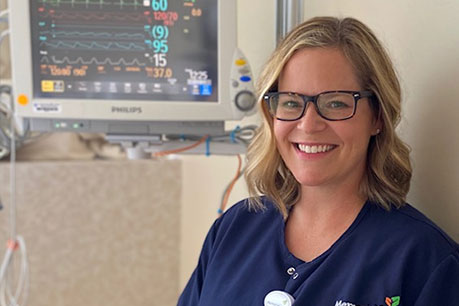 "I've worked at Long Beach Medical Center for almost 20 years, the majority of which has been spent as a bedside RN. With the support of the organization I was able to attain my Bachelor's and then Master's Degree by participating in the Tuition Reimbursement program. I've always felt one of the best things about Nursing is that I learn something new almost every day. I recently became a Clinical Educator and am finding it incredibly rewarding to not only facilitate education for others, but to continue building my own knowledge base with each new opportunity. These hallways have seen me say goodbye to loved ones, hold my baby for the first time, make life-long friends, and advance my career. My heart is where my home is, and my home is here!"
Mission
Mission
To improve the health and well being of individuals, families and our communities.
Vision
Exceptional People.
Extraordinary Care.
Every Time.

Benefits
Healthcare

Medical, Dental and Vision plans (HMO & PPO) & Flexible Spending Accounts (FSA)

Health and Wellness Programs

MemorialCare is committed to providing an environment and culture that empowers its employees to maintain or improve well-being through our nationally recognized "Good Life" program.

Employer Matching 401(K)

MemorialCare is committed to your financial success and provides the 401(k) Plan to help you save for retirement.

Professional Development

MemorialCare encourages and supports the professional growth of its employees by providing financial assistance to further their education.

Paid Time Off

A fully integrated PTO plan which includes; vacation, sick leave, holidays & personal days.

Life and Disability Insurance

Basic Life/AD&D is an employer paid benefit that is offered to Full-Time employees.
Responsibilities
Location:
Schedule: Per Diem
Shift: Regular
Job Listing:LON009626
The Nurse Practitioner (NP-S) practices as a member of the interdisciplinary healthcare team using standardized procedures to independently examine, diagnose and treat patients in collaboration with supervising physician(s). 
Expert Clinical Practice and Collaboration
A.  Independently examines, diagnoses, orders diagnostic studies and treatment for patients using approved standardized procedures.  Evaluates the effectiveness of interventions and changes treatment as indicated.
B.  Provides direct patient/indirect care.
Coordinates, prioritizes and organizes individual patient care in collaboration with supervising physician(s)
Collaborates with members of the healthcare team to create a patient plan of care.
Provides individualized patient and family education and documents in the patient teaching plan.
Communicates with supervising physician and physician consultants treating the patient.
Anticipates discharge on admission and plans accordingly.
Ensures accurate patient problem list and medication reconciliation on admission and discharge.
Utilizes age specific competencies for culturally diverse patients.
Ensure accuracy of acuity with appropriate diagnostic documentation.
Ensures a seamless transition through the hospital continuum of care. May follow in a outpatient clinic or physician's office.
May practice in a clinic, inpatient setting and/or outpatient setting.
General Care Development
Monitor and manage the patient's progression through hospitalization.
Identifies ideas and insights into clinical improvements for patient population served.
Quality Improvement and Research
Participates in quality improvement activities as assigned.
Participates a requested in peer review activities.
Additional responsibilities:
Complies with all policies and procedures.
Participates in the orientation and development of students and/or new staff as assigned.
Maintains standardized procedures and privileging/credentialing requirements according to medical staff AHP rules and regulations.
Adheres to standard work and organizational expectations.
The NP-S has shift responsibility and works as scheduled by nurse manager/director. May require rotation between shifts. Is usually staffed 7 days/week. Hand off report is frequently required between shifts.
Three to five years of experience as a registered nurse in a general care or intensive care environment. May be a new graduate NP. Experienced NP is preferred.
Current license as a Registered Nurse (RN) in the State of California.
Current certification as a Nurse Practitioner (NP) in the State of California.
Current furnishing license to furnish medications in the State of California.
An individual Drug Enforcement Agency (DEA) License issued by the United States DEA for Schedule III-V controlled substances. If NP will be prescribing Schedule II medications the NP must also have the DEA license for Schedule II controlled substances.
Certification as a Nurse Practitioner (NP) from an agency accredited by the Accreditation Board for Specialty Nursing Certification (ABSNC).
Must have a National Provider Identifier (NPI) and be enrolled in the Provider Enrollment, Chain, and Ownership System (PECOS) within 90 days of hire.
Current Basic Life Support (BLS) Certification from the American Heart Association.
Current Advanced Cardiovascular Life Support Certification (ACLS) and Pediatric Advanced Life Support (PALS) from the American Heart Association per department requirements.
ATLS within 8 months of hire.
Additional certifications as applicable per department and medical staff requirements.
Jobs For You
You have not recently viewed any jobs.