Senior Histology Certified Tech, Pathological Laboratory - FT/Days (8hr)
Location: Long Beach, California
Schedule: Full-time
Shift: Full-time
Job Listing: LON007070
At MemorialCare Health System, we believe in providing extraordinary healthcare to our communities and an exceptional working environment for our employees. Memorial Care stands for excellence in Healthcare. Across our family of medical centers, we support each one of our bright, talented employees in reaching the highest levels of professional development, contribution, collaboration and accountability. Whatever your role and whatever expertise you bring, we are dedicated to helping you achieve your full potential in an environment of respect, innovation and teamwork.
Position Summary
The Senior Histology Certified Technologist is responsible for acting as the Lead Technologist in the department and has specific lead duties, in addition, to preparing and processing surgical and autopsy tissue specimens for microscopic examination by a Pathologist.  Processing includes embedding, cutting, staining, accessioning and mounting on a slide so that the presence or absence of disease may be effectively demonstrated to the Pathologist responsible for reading the slide and making a diagnosis.  Performs special stains to make samples more visible as needed.
Essential Functions and Responsibilities of the Job
Operates and maintains section laboratory equipment and ensures that all equipment is in working order.

Performs equipment, reagent, and process calibrations / validations, where appropriate.

Evaluates, validates, and implements new tests as requested by the Pathologists or as needed for operational benefit for improved patient care.

Maintains technical knowledge. Orients / trains / evaluates the competencies of new and / or seasoned employees.

Maintains AP staff scheduling and submits draft schedule to supervisor for approval.

Attends department education and training inservices

Processes surgical and autopsy specimens for evaluation. Prepares varied stains, solutions, and other compounds used in Histologic processes following laboratory procedures.

Identifies and records tissue samples. Processes tissue and bone marrow samples by dehydration, embedding, cutting, staining, special staining procedures, decalcification, and frozen section cryostat method.

Assures that all required solutions and chemicals are properly prepared and in place.

Complies with any quality control policies and procedures as established and maintains necessary documentation. Creates, revises, updates, & maintains established facility and department policies and procedures including quality assurance, safety, environmental and infection control SOPs.

Complies with requirements of accreditation and regulatory agencies.

Performs other duties as assigned.
Minimum Requirements
Qualifications/Work Experience:
4+ years of training in a Joint Commission accredited institution.
Education/Licensure/Certification:
At a minimum, an Associate of Arts degree is preferred.

HT(ASCP) certification is required.
Jobs For You
You have not recently viewed any jobs.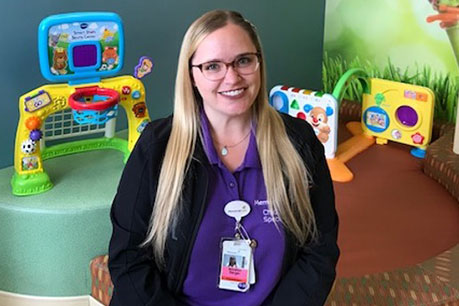 "I love working at Miller Children's & Women's Hospital Long Beach because I value working for a company that invests in its employees and the community we serve. From the support and guidance I receive from managers who value my professional and personal growth; to being able to work alongside colleagues who are dedicated to help their patients and families. I feel inspired every day to do the work that I love alongside people who share a similar vision."